Two areas of holiday cooking that are often overlooked are spicy turkey stuffing and what to do with that leftover turkey.  In this SuperSite article entitled Holiday Sizzling Stuffings and Leftovers, Dave DeWitt shares his ideas on the subject—and he has a lot of practice with such things, as Thanksgiving is his favorite holiday!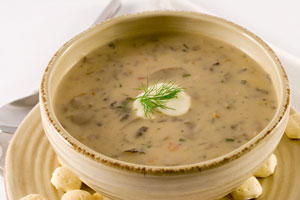 You can't go wrong with Dave's recipe for Fiery Cream of Turkey-Mushroom Soup. In fact, he's making it today!
1 carrot, peeled and diced
2 onions, finely chopped
1 stalk celery, finely chopped
6 tablespoons butter
3 tablespoons flour
6 cups turkey broth
1 bay leaf
2 cups half and half, heated
1 1/2 cups diced cooked turkey meat
1 1/2 cups cooked and chopped button mushrooms
Habanero hot sauce to taste
Salt and freshly ground black pepper to taste
In a saucepan, saute the carrot, onion, and celery in the butter until soft, about 8 to 10 minutes.  Add the flour and cook for 5 minutes, stirring often.  Add the broth gradually, stirring until slightly thickened and smooth.  Add the bay leaf, simmer uncovered for 30 minutes, then remove the leaf.
Add the remaining ingredients and simmer for about 5 minutes.
Yield: 4 or more servings
Heat Scale: Varies
With Christmas just around the corner (yes, it's true), try the Green Chile-Cornbread Stuffing recipe in this SuperSite article for a truly memorable Southwestern twist. I make this stuffing whenever I'm roasting a turkey and it's always a hit.
I'd love to know what YOU like to do with leftover turkey! Please send an email and share your favorite spicy recipe. I'll put it up on the blog.
The following two tabs change content below.
Lois Manno
Lois is the Editorial Director of the Burn! Blog and the Fiery Foods & BBQ SuperSite.
Latest posts by Lois Manno (see all)