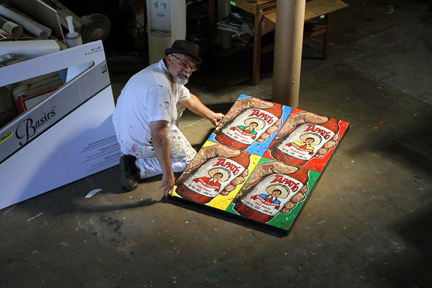 I started painting images I liked from my past—old cereal boxes, bottles, Tapatio bottles. Tapatio, in fact, is funny. It's used on everything and it's a normal thing here in California. I don't work in the food or restaurant industry. I really just like to eat. It's a comfort area to me—old restaurants and signage, which is part of my background. People look at the art and say things like, "Oh, I remember the Doll Hut" or some of these restaurants. It's comforting." Artist Robert Holton
We writer types just love to make anything look artsy. It's a great way to make ourselves feel smart, and sometimes we even are. Nothing yanks a subject kicking and screaming into the fine art realm like an actual artist, though. Take Robert Holton, for instance. I met him at a show about a year ago, we got to talking, and I thought his work would make an interesting story for the Burn! blog. Once I Jedi mind tricked Lois Manno into agreeing with me, I paid Robert a visit at his combination sign shop/studio, One Day Signs, Inc., in Anaheim, California.
He's been doing signage for 29 yrs now. Robert's art studio, Drizzle Art, is an extension of the sign business. In brief, he takes photos and scanned images, prints them on canvas, and enhances them with paint from water bottles. Taking photos and enhancing a little with paint was the seed that evolved into using more paint until the images were mostly hand painted.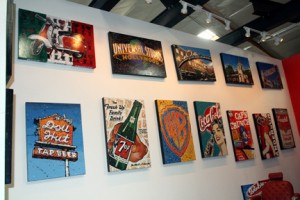 The reason you're reading about this, though, is because a lot of Holton's images are food related, like this Tapatio bottle painting. A lot of the base images are old magazine ads Robert found at Pasadena's Rose Bowl swap meet. "Somebody once said my style is Andy Warhol meets Jackson Pollock," he told me. "If Warhol was alive, I'm sure he'd be using this process. It's becoming more accepted by the galleries now. In some of the art shows I did several years ago, there was no classification for work like what we were doing so it's been a challenge to get accepted that way."
When we started talking about Robert's work, one word kept poking its nose into the conversation—tactile. As the paint drips pile up, they form a 2 dimensional surface that everyone wants to touch. It's almost as if he's working in frosting instead of paint.
He'll paint layers over an image three or four times. As it evolves, Robert knows what direction to take it in terms of extra shading and shadows.
Since Robert started making these semi-gooey re-imaginings of commercial art several years ago, he's gained more than a few clients who collect his work, ranging from real estate agents to a custom restaurant designer. Food Network's Guy Fieri even has one of Robert's paintings. You can see more of his work on our Facebook page or at the Drizzle Art website. 
The following two tabs change content below.
Managing Editor | Mark is a freelance journalist based out of Los Angeles. He's our Do-It-Yourself specialist, and happily agrees to try pretty much every twisted project we come up with.
Latest posts by Mark Masker (see all)