I'm in Austin visiting my brother and his wife this week; during our deliberations about what to have for dinner, Mexican came up as an option. "I think we have some enchiladas in the freezer," Dan said.  "They're from the Pioneer Woman."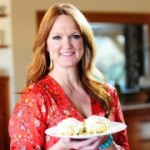 Uh oh, some pioneer woman is cooking food for my brother? Dan and Kay are former hot-shot computer professionals who traveled the world working for the big dogs like Dell. He's a hard-core gamer. Hearing the word "pioneer" come out of a guy who blithely mentions the "Kobayashi Maru" was a bit disconcerting, to say the least. I know living in Texas can have long-term damaging effects, so I was tempted to attribute it to heat & humidity-inspired dementia. Then he explained that The Pioneer Woman was a website filled with great recipes. After tasting the enchiladas (which were mighty fine) I decided to dig deeper into this homespun hussy who seems to be finding her way into my brother's heart through his stomach.
Know what? The Pioneer Woman rocks. The tagline gives you a sense of what's coming: "Plowing through life in the country…one calf nut at a time." It's the brainchild of Ree Drummond, who describes herself as "a moderately agoraphobic ranch wife and mother of four." She rules the roost on her husband's family cattle ranch in Oklahoma, but this is no deep-fried-butter-stuffed-twinkie redneck blog.
Ree is funny, for one thing. Her posts are full of irony and self-effacing humor. She talks about her "weird kids" and her admitted inability to resist taking photos of her husband's butt when he dons chaps (she refers to him as "Marlboro Man"). I read deeper into the pages of this site than I usually do when visiting a new place, and I had fun there. It's not just about food, either. She has sections on homeschooling, running a cow-calf operation, photography, and country life. But it's mostly about food, with great photography…this is no amateur hack job.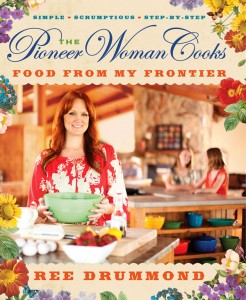 Which isn't surprising, considering Ree has just published her second cookbook, and is in her third season on The Food Network. What I like about  Ree's approach is that the food is simple to make, the approach is down-home, but the results are classy. That's a hard balance to strike, but she manages over and over. And did I mention she's funny? While you're in the middle of reading the instructions for making shrimp tacos, for instance, you'll run across this admonition on the application of fresh lime juice:
"I can not express to you how important this element is. It's so important, in fact, that if you leave it out, your life will begin to spiral downward into a series of mishaps and disappointments and forty years from now you'll knock yourself over the head and say 'WHY didn't I add that squeeze of lime to my shrimp taco that one day? WHY?' Don't let this happen to you."
Here's The Pioneer Woman's take on beef enchiladas. They were tasty, they were satisfying, they were without strange twists, odd ingredients, or extra steps. Though the flavor balance is excellent, they aren't super spicy, so adjust the heat level by chopping up a fresh chile (or two) of your choice and tossing it into the beef mixture before cooking.
Safe in the knowledge that I don't have to open up a can of whup ass on some bimbo to defend my sister-in-law's honor, I can enjoy my enchiladas in peace. And my brother has gained some brownie points in my book. After all, it takes a Real Man to admit he follows The Pioneer Woman.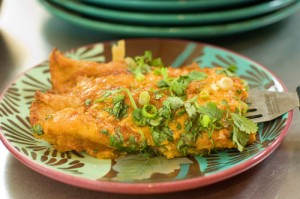 Simple, Perfect Enchiladas!
FOR THE SAUCE:
1 Tablespoon Canola Oil
1 Tablespoon All-purpose Flour
1 can (28 Ounce) Enchilada Or Red Sauce
2 cups Chicken Broth
1/2 teaspoon Salt
1/2 teaspoon Ground Black Pepper
2 Tablespoons Chopped Cilantro
FOR THE MEAT:
1-1/2 pound Ground Beef
1 whole Medium Onion, Finely Diced
2 cans (4 Ounce) Diced Green Chilies
1/2 teaspoon Salt
FOR THE TORTILLAS:
10 whole (to 14) Corn Tortillas
1/2 cup Canola Oil
TO ASSEMBLE:
3 cups Grated Sharp Cheddar Cheese
1/2 cup Chopped Black Olives
1 cup Chopped Green Onions
1/2 cup Chopped Cilantro
Preparation Instructions
Step #1 – The Sauce
In a large saucepan over medium heat, add oil and flour and whisk together to make a paste, cooking for one minute. Pour in the red sauce, chicken broth, cilantro, salt and pepper. Bring to a boil. Reduce heat and simmer 30-45 minutes.
Step #2 – The Meat
Brown the meat with onions in a skillet. Drain off fat. Stir in 2 cans diced green chilies and seasoned salt. Set aside.
Step #3 – Tortillas
Heat canola oil in a small skillet over medium heat. One by one, using tongs, fry tortillas in oil until soft, not crisp – about 30 seconds per side. Remove to a paper—towel lined plate. Repeat until all tortillas have been fried.
Step #4 – Assembly
Preheat oven to 350 degrees. Pour ½ cup red sauce in bottom of baking pan. Spread to even out. Dip each tortilla into red sauce, then remove to work surface. Spoon meat, a little grated cheese, a little black olives, and green onions in the center of tortilla. Roll up and place, seam down, in baking pan. Repeat until pan is filled. Pour extra red sauce over enchiladas. Top with remaining cheddar cheese.
Bake for 20 minutes or until bubbly. Sprinkle cilantro over enchiladas before serving.
The following two tabs change content below.
Lois Manno
Lois is the Editorial Director of the Burn! Blog and the Fiery Foods & BBQ SuperSite.
Latest posts by Lois Manno (see all)