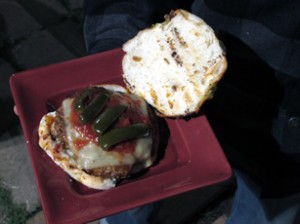 Last Christmas, the fat guy in the red suit brought me a Cabela's Pro Series electric meat grinder and I've been dying to try it out. Cinco de Mayo gave me a great excuse to do that. I turned 4 pounds of boneless pork butt into homemade patty chorizo, but that was just the start of what turned into a really fun grilling idea for the holiday.
I knew National Hamburger Month was coming up too, so I killed two very tasty birds with one stone by firing up the grill and turning the homemade sausage into some seriously yummy hamburgers, Cinco de Mayo style.
Chorizo Burgers on Jalapeño Cheddar Rolls with Spicy Jack Cheese
4 pounds of ground pork
4 medium eggs
4 tablespoons sea salt
3 tablespoons chile powder
3 tablespoons minced garlic
1 tablespoon crushed black pepper
1 tablespoon cumin
2 tablespoons hot paprika
1 tablespoon cayenne
2 tablespoons chopped fresh oregano
4 tablespoons red wine vinegar
8 jalapeño cheddar rolls
1 cup of your favorite salsa
4 pickled jalapeño peppers (sliced) or one small can of pickled, sliced jalapeños
8 slices jalapeño jack cheese
1 cup of guacamole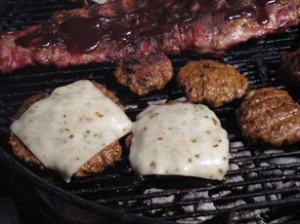 While your grill is heating, mix the ground pork with everything except the rolls, salsa, pickled peppers, guacamole, and jack cheese. I did this with my hands to be extra thorough. Once that's done, divide the sausage into eight half-pound patties and grill them over direct heat. Flip them when juice appears on the top surface of the meat and add a slice of cheese to each. If you're going to grill the rolls, now's the time to slice them in half and do so. It should only take 5 minutes or so to finish grilling the burgers.
Remove the burgers from the heat, place each on a bun, then add a little salsa, guacamole, and a two or three slices of the pickled jalapeños.
Heat Scale: Medium to Hot, depending on what kind of salsa you use
Serves: 8
The following two tabs change content below.
Managing Editor | Mark is a freelance journalist based out of Los Angeles. He's our Do-It-Yourself specialist, and happily agrees to try pretty much every twisted project we come up with.
Latest posts by Mark Masker (see all)