Contrary to popular belief, Mexican hooch isn't all about fruity beer, worms, and margaritas. Not that there'd be anything wrong if it were. I've spent whole weekends living off of nothing but those three things, and aside from a recurring facial tic and a few flashbacks, I'm fine.
Do a little digging and you'll come across some great distilled treasure. The Aztecs and other native American cultures had their takes on booze, and the Spanish expanded on it when they set up shop in the Americas. Tequila and mezcal were born, but so were other almond- and coffee-flavored spirits like Kahlua. In recent years, lesser-known companies have started exporting their wonderful liqueurs into the U.S. Since we covered margaritas earlier this week, I thought I'd share some drinks I found that you can serve with dessert (or for that matter, as dessert) this Cinco de Mayo.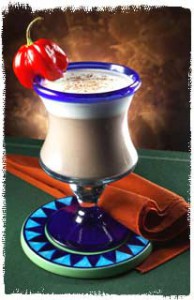 The Great Montezuma Hot Chocolate
Photo by Steve Tesky
I stole this recipe from our SuperSite, fiery-foods.com. World traveler and author Richard Sterling developed this recipe, which is his version of how the Spaniards transformed Montezuma's favorite beverage by adding alcohol. He commented: "Salud! Drink to the Old World and the New."
12 ounces prepared hot chocolate (not too sweet)
2 tablespoons honey
½ teaspoon vanilla extract
2 jiggers pepper vodka
2 tablespoons heavy cream
Cayenne powder and cinnamon sticks for garnish
Grated chocolate and dried red chiles for garnish (optional)
Combine the chocolate, honey, vanilla and vodka in a small pitcher. Pour into two long-stemmed glasses or Irish coffee glasses. Float the cream on the tops of the two drinks. Dust with a pinch of Cayenne pepper and garnish with cinnamon sticks, or dust with grated chocolate and garnish with dried red chiles (cut them lengthwise and fix them to the edges of the glasses).
Yield: 2 servings
Heat Scale: Mild
Kahlua Espresso Martini
(courtesy of kahlua.com)
To a lot of people, Kahlua is gringo-ese for "Mexican Liqueur." It's enjoyed huge popularity north of the border for years, and it's a good gateway booze for meeting other Mexican liqueurs. People use it in White Russians—among other things—but this coffee drink would go great with flan or some dulce de leche.
1.5 parts Kahlua
1 part Absolut Vodka
1 freshly brewed espresso
Fill a shaker with ice, add the Kahlúa, vodka and a fresh brewed espresso. Shake vigorously, and strain into a chilled martini glass.
Yield: 1 serving
Heat Scale: Not
Señor Bite
(courtesy of almendrado.com)
Reserva del Señor Almendrado is basically a silver tequila combined with natural almond flavoring during its second distillation. Some have compared it to amaretto. The Licor de Cafe is their coffee version, combining tequila with a natural coffee flavoring.
1 ½ ounces Reserva del Señor Licor de Café
1 ½ ounces of Reserva del Señor Silver Tequila
½ ounce Orange Liqueur
Put in shaker with ice
Serve over ice in Rocks glass
Yield: 1 serving
Heat Scale: Not
Don Juan
(courtesy of agavero.com)
Some brilliant soul created Agavero Tequila back in 1857. What makes it stand out are the damiana flowers that are added during its creation. The nose boasts a mixture of rich, spicy agave, verbena, and pepper aromas—while the flavor is a mix of tequila, charred green pepper, and herbal influences.
3/4 oz Agavero
3/4 oz coffee liquer
1 1/2 oz chilled espresso
1/2 oz milk (optional)
Shake it with ice and pour into a chilled martini glass
Yield: 1 serving
Heat Scale: Not
The following two tabs change content below.
Managing Editor | Mark is a freelance journalist based out of Los Angeles. He's our Do-It-Yourself specialist, and happily agrees to try pretty much every twisted project we come up with.
Latest posts by Mark Masker (see all)