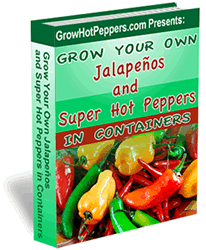 Growing season may be on us right now, but it's not too late to get started. Dominica Esperanza's Grow Your Own Jalapeños and Super Hot Peppers in Containers ebook is a new resource for beginning chile growers looking to do-it-themselves at home. This book comes from the creator of the website growhotpeppers.com.
It's written from the perspective of someone who came by their knowledge by way of blood, sweat, and maybe a few tears. She started off with some research on gardening, then dove headfirst into her first attempt. Learning as she went, Dominica collected a nice body of knowledge useful to the first time grower working with a limited amount of space. She has interesting suggestions about things like exercising your seedlings and using chamomile tea in the growing process.
The book is broken into three sections. It first deals with starting the seeds, growing healthy plants, and winterizing them. In the second, the book discusses troubleshooting common problems with hot pepper plants. Part Three talks about the varieties of peppers that you can grow.
One of the first things the book covers is building an indoor tray for home use, including using a heat source like the top of the fridge, radiator, or computer monitor to keep the plants plenty toasty. I never would have thought of that. If you're looking for a book that assumes you know nothing about growing peppers beforehand, this may be a good choice to get started. At $27 for a 46-page ebook, it's a bit steep but if container gardening is your goal, it's well-targeted.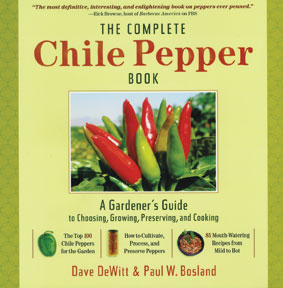 Once you get the process down pat, or if you want to plant your chiles outdoors in the ground, pick up The Complete Chile Pepper Book by Dave DeWitt and Dr. Paul Bosland as a more extensive complement to it. And you get 336 pages of comprehensive chile-growing information for $19.
The following two tabs change content below.
Managing Editor | Mark is a freelance journalist based out of Los Angeles. He's our Do-It-Yourself specialist, and happily agrees to try pretty much every twisted project we come up with.
Latest posts by Mark Masker (see all)