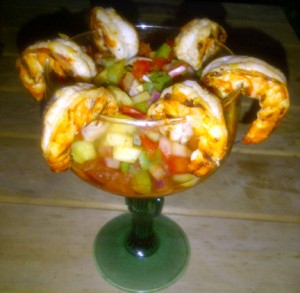 Traditionally Independence Day is one of the busiest days for backyard cooking. Burgers, hot dogs, steaks and more are on grills throughout the country. For my July 4th get-together this year I'm creating a refreshing, somewhat spicy, and very flavorful appetizer to serve my guests: Chile Lime Garlic Shrimp with Baja Gazpacho. If you really want to kick up your spicy soup repertoir, we've got a great article on them at the Super Site, complete with recipes.
Chile Lime Garlic Shrimp
1 1/2 pounds (21-25) shrimp, peeled and de-veined, tails attached
For the marinade:
1/2 cup lime juice (juice of four limes)
2 tablespoons minced Thai chilies
2 tablespoons Sake or white wine
2 tablespoons minced jalapeños
1 tablespoon rice vinegar
2 cloves garlic, minced (about one teaspoon)
2 teaspoons crushed red pepper flakes
1 teaspoon granulated sugar
1/4 cup olive oil
In a small food processor, pulse to combine everything except the shrimp and the olive oil. With the processor running, slowly add the olive oil, creating an emulsion.
Place the shrimp in a non-reactive container and add the marinade to it. Cover the container and refrigerate it for one hour.
Prepare the grill for medium-high direct grilling. Drain the shrimp and grill them for a couple of minutes per side or until opaque. Remove the shrimp from the grill and hold them for service.
Serves: 4
Heat Scale: Medium
Baja Gazpacho
This gazpacho is a refreshing and spicy blend of shrimp, avocado, tomatoes, cilantro and lime! Crab meat or lobster could be substituted for the shrimp. Don't substitute dried cilantro for fresh as the flavor will be entirely different.
1 1/2 pounds cooked Chile Lime Garlic shrimp (above)
For the gazpacho:
2 cups tomato & clam juice (Clamato®)
1/2 cup chili sauce
4 large cloves garlic, minced (about 1 tablespoon)
4 green onions, finely diced
4 tablespoons minced jalapeño chile
3 avocados, seeded
1 cup seeded and diced plum tomatoes
1/2 cup finely diced red onion
1/2 cup peeled, seeded and chopped cucumber
1/2 cup finely diced green or red bell pepper
3 tablespoons fresh lime juice
2 tablespoons minced fresh flat-leaf parsley
1 tablespoon minced fresh cilantro
1 tablespoon extra virgin olive oil
1 tablespoon prepared horseradish, well drained
1 tablespoon Mexican hot sauce (Cholula, Búfalo, Tapatio, etc.)
2 teaspoons Worcestershire sauce
1/2 teaspoon dried oregano
2 tablespoons lime zest (for garnish)
2 tablespoons lemon zest (for garnish)
Prepare the gazpacho by combining the ingredients in a large bowl, cover and refrigerate for at least one hour. (The sauce may be prepared two days in advance and stored, covered and refrigerated.)
Reserve six shrimp for each serving. Remove the tails from the remaining shrimp. Chop the shelled shrimp and add them to the sauce, stir to combine, and refrigerate, covered, at least two hours or up to eight hours.
Slice one of the avocados and dice the other two. Drizzle the avocados with lime juice to prevent discoloring. Add the diced avocado to the gazpacho. Equally divide and spoon the gazpacho into chilled glasses. Garnish the rim of each glass with Old Bay seasoning, tailed shrimp, an avocado slice, and fruit zest.
A couple of shots of tequila could be added to the gazpacho if desired. You don't need to use high-priced tequila as the flavor will be masked by the gazpacho.
Serves: 4
Heat Scale: Medium
The following two tabs change content below.
Grilling & BBQ Editor | Mike holds a "Doctorate of Barbeque Philosophy" (Ph.B.) degree from the Kansas City Barbeque Society. His book Mastering Barbecue has been called the "go-to" book for BBQ knowledge.
Latest posts by Mike Stines (see all)