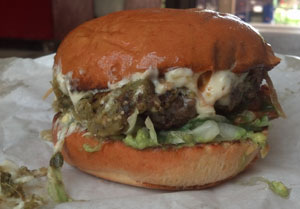 Reported by Dave DeWitt, on the road in Texas
On Tuesday in Houston, I had lunch at a food truck—er, bus, with James Wreck and David of eatmoreheat.com.  Specifically, a burger bus called Bernie's that was parked next to the student center at the University of Houston.  Their special was a Fire Drill Burger, which consisted of a one-third pound burger topped with spicy guacamole, salsa, green chile relish, chipotle aioli, and a grilled tomato.
It was spicy, greasy, and delicious—and quite a departure from their other high school-themed burgers, The Principal, The Substitute, The Bully, and Detention.  Oh,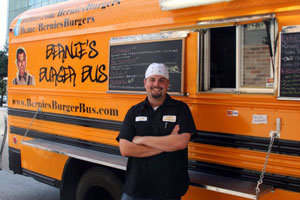 the Fire Drill was priced at $9.75, which was okay because it was a filling, one-course burger dinner.
What makes a Bernie's Burger better? They grind their own beef and make their own condiments from scratch, from the mayo to the ketchup. The buns are locally baked, so everything is absolutely fresh. They're mobile and they cater, so if you're lucky enough to live in Houston, Bernie's will roll right up and show you their "old school" way of burger making.
The following two tabs change content below.
Publisher | Christened the "Pope of Peppers" by The New York Times, Dave DeWitt is a food historian and one of the foremost authorities in the world on chile peppers, spices, and spicy foods.
Latest posts by Dave DeWitt (see all)