Starting yesterday, Food Network blew the roof off of its hit series, Chopped, with the first of five themed episodes dubbed Chopped: Grill Masters. Over five weeks, the show was based outdoors at the nostalgic Old Tucson Studios in Arizona. Sixteen grilling professionals from around the country faced off in this captivating Wild West showdown. Chopped favorites Amanda Freitag, Marc Murphy, and Aarón Sánchez passed sentence at the judging table while sampling the astonishing mystery meals fielded by the tremendously talented competitors.
One chef from each preceding duel will progress to the final fiery face-off, and when the dust clears, the greatest grilling pro of all will walk away with a $50,000 grand prize. The rest of the episodes will air Sundays at 10pm ET/PT until August 19th. Rick will appear on episode four, airing August 12.
One of the lucky competitors was renowned TV cooking show host, photojournalist, and author Rick Browne. He's traveled the world bringing his experiences to print in food, consumer travel, and airline publications. Throw in his extensive experience as a Pit Master for the Mill Creek Pub & Grill in Battleground, WA, and you can see why he got the nod to step up and show off his grilling chops (pun shamelessly intended). Mr. Browne is also the resident Barbecue Guru for our SuperSite. Rick was kind enough to take a break from his busy schedule to let us pick his brain about working on one of the coolest food shows in production today.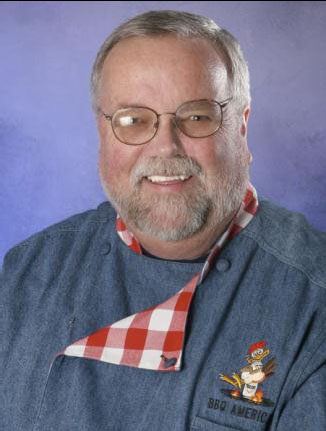 BB: What's the biggest adjustment you make cooking on TV versus at home or in competition?
RB: "In this case, everything was a surprise. The kitchen, the time, the ingredients. Even on my show, Barbecue America, I know what I'm cooking, how much time I have. You can't start over on Chopped."
BB: How were you approached for the show?
RB: "I received an email from the Chopped casting folks to see if I'd be interested. Being someone who loves competition and being on TV, I loved it. I enjoyed the idea. I'm a Chopped addict. I liked using some ingredients you wouldn't try at home."
BB: What's the process like? How is it different than what we see on TV?
RB: "What you see is what happens. It's cut down to an hour time. The whole thing took most of the day. You start in the morning, finish in the afternoon. It's a lot of filming of reactions, looking at plates, and judge's reactions."
BB: What's the biggest challenge?
RB: "Both the ingredients and the time. From watching the show, I've seen people fall apart with simple items and excel with complex ones. If you go for it the right way, you're rewarded. If not, you get to watch rest of the show (laughs)."
BB: How do you attack making these foods on such a tight time limit?
RB: "You can't even think. You can take 30 seconds to think as you open the basket and look, you better think right there. Within seconds, Ted says, 'Your time begins now.' You have to think instinctively with ingredients you've maybe never even seen or heard about."
BB: Did you win?
RB: "I'm sorry, bad connection. Are you driving through a tunnel?"
BB: What is a competition TV cooking show you'd like to see?
RB: "I'd like to see a show like Chopped for older folks or another Food Network stars show for people over 60. I think there'd be a lot of interest in what I call 'pressurized cooking.' It would be great to watch people who've cooked for years and know the ins and outs of cooking. I think it would be very interesting."
BB: What other TV appearances do you have coming up?
RB: "Local ones. Working on getting Barbecue America show back on TV for its eighth season. I'm also doing the Grilling Wild show for the Sportsman Channel, where I grill game for hunters and fishermen. I'm also working A Century of Restaurants. It's a book about traveling by plane and car to visit restaurants in America that are 100-300 years old."
BB: What advice would you give to someone going on Chopped for the first time?
RB: "Watch as many Chopped shows as you possibly can. When you get there, you'll be scared but relax, go with the flow. Every chef makes a mistake in every round. Period. Have fun and enjoy it. It's a great experience."
The following two tabs change content below.
Managing Editor | Mark is a freelance journalist based out of Los Angeles. He's our Do-It-Yourself specialist, and happily agrees to try pretty much every twisted project we come up with.
Latest posts by Mark Masker (see all)