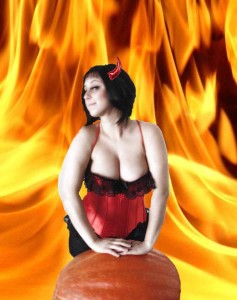 Three years ago, I started turning monster pumpkins into smokers for Halloween. Not only was it a good excuse to play with freakishly large vegetables, it was an even better excuse to put an attractive woman into a devil outfit and take pictures for the blog. I also  like the idea of food that smokes itself. The basic idea was simple. Clean out the pumpkin, cut holes in the top and bottom, and place it over a small electric hot plate as the basis for the smoker.
Fast forward two Halloweens later. Since that first smoked pumpkin, I've added a few fall recipes using the stuff that ranges from infused dark rum to pumpkin soup to maple smoked pumpkin pie. I'm reprinting the whole process here, plus those tried recipes for your amusement (and hopefully, use). I've got some new ideas for this year's batch of smoked pumpkin that I'll share here as I make them. Before you can start playing with your own smoked pumpkin, you'll actually need to make it.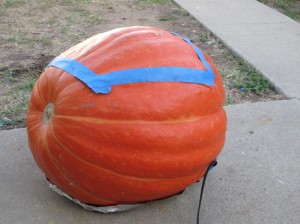 Go, Go, Gourdzilla
I've made it using my charcoal bullet smoker and Gourdzilla method. It's pretty basic. First, get one of those oversized pumpkins that are about 3 feet in diameter. It'll probably have a flat side. That's what you want to be the bottom. Cut a slanted hole out of the opposite side for the top just like you would a normal Jack-O-Lantern. Scrape out the guts, then cut out a hole in the bottom large enough to cover an electric hot plate.
Next, set a largish sheet of heavy duty aluminum foil (2×2 feet is fine) onto the area where you're going to smoke the pumpkin. You may want to use your driveway or other patch of cement for this so as not to catch anything flammable on fire. Set the hot plate in the middle of the foil, place the cut pumpkin over the foil, and duct tape the foil to the outside of the pumpkin to form a seal.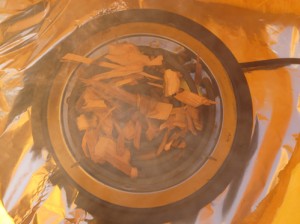 Now comes the fun part. Plug the hot plate into an extension cord. You want it hot enough to smoke wood chips and slow cook the pumpkin so I wouldn't go with anything over the medium setting unless you're using the same crappy cheap plate I use. In that case, set it to high. Once the plate heats up, pour a cup of wet wood chips onto the plate, put the pumpkin lid in place, seal it with more duct tape, and let 'er rip. Add another cup of wet chips every half hour for 2-4 hours depending on how heavy you like your smoke and how fast the pumpkin is cooking.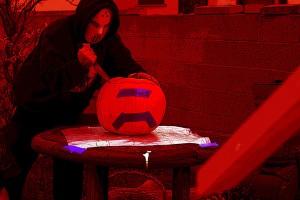 Smoke and Bullets
If you don't want to shell out the 30-40 bucks for one gigantor pumpkin or deal with food that weighs more than a Harley motor, normal pumpkins work pretty well too. This method doesn't look nearly as cool, though.
First, get your bullet smoker heating up just like you would for smoking anything else. While it's warming up and the chips are soaking in their water, gut the pumpkin and slice it into halves or thirds so that the pieces fit on your grates. I take a barbecue fork and poke a bunch of holes on the inside surfaces of the pumpkin slices to let in more smoke.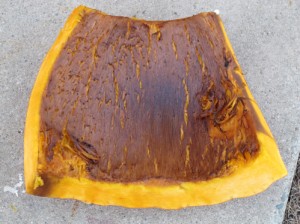 Next, place the slices in the smoker, add the chips, button it up, and let it go. Keep the temp low and slow; smoke takes a lot of time to work its way all throughout the pumpkin. I've smoked pumpkin once this way and it takes at least three hours.
What the Hell do I do with All This?
I like to cut the finished slabs into hand-sized chunks and give it the cheese grater treatment. Not only will the pumpkin tell you anything you want to know after that, it's also a good way to turn it into a form you can actually cook with. You should be able to get at least two quarts out of a medium-sized pumpkin. A good Gourdzilla yields at least a gallon (and usually a lot more than that). I'll cook with some of it almost immediately but most of the smoked pumpkin goes into vacuum sealed bags after it cools, then into the freezer for use throughout the winter holidays.
Here are the recipes I've used from Halloweens past.
Smoked Pumpkin and Maple Pie
Author:
Prep time:
Cook time:
Total time:
Combining smoked pumpkin with maple syrup seemed like a good idea at the time and worked out well in my opinion.
Ingredients
2 cups strained and pureed smoked pumpkin
2 eggs
3/4 cup sugar
1/2 cup maple syrup
1 teaspoon pumpkin pie spice
1 teaspoon cinnamon
1 teaspoon nutmeg
1/4 teaspoon salt
pastry for a 9-inch pie crust
Instructions
Start by straining the smoked pumpkin to get rid of excess liquid and let it dry a little bit.
Puree it in small batches, then combine it with everything but the pie crust and blend it all until smooth. Pour the mixture into the crust and bake for 30 to 40 minutes or until you can insert a knife into the pie one inch from the edge and pull the knife out clean.
Let it cool for an hour, then chill it in the refrigerator before serving.
Smoked Pumpkin Soup
Author:
Prep time:
Cook time:
Total time:
This was the first recipe I tried. Since then, I've started frying up a pound of bacon, chopping it up, and adding it in as well.
Ingredients
6 cups chicken stock
1 1/2 teaspoons salt
4 cups smoked pumpkin flesh
1 teaspoon chopped fresh parsley
1 cup chopped onion
1/2 teaspoon chopped fresh thyme
1 clove garlic, minced
1/2 cup heavy whipping cream
5 whole black peppercorns
Instructions
After you smoke the pumpkin, scrape it out of the skin into a bowl until you have four cups.
Heat the stock, salt, pumpkin, thyme, garlic, and peppercorns to a boil.
Reduce the heat to low and simmer it all for 30 minutes uncovered.
Puree the soup one cup at a time in a food processor or blender.
Return the soup to the pan and bring it to a boil again.
Next, reduce heat to low and simmer for another 30 minutes, uncovered.
Stir in the heavy cream, then pour the stuff into soup bowls and garnish with fresh parsley.
Bonus: scoop out 7-10 very small pumpkins and use those as serving bowls.
The following two tabs change content below.
Managing Editor | Mark is a freelance journalist based out of Los Angeles. He's our Do-It-Yourself specialist, and happily agrees to try pretty much every twisted project we come up with.
Latest posts by Mark Masker (see all)