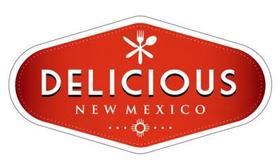 Exciting things are happening in the New Mexico food community right now, especially what the people at Delicious New Mexico are doing for small local food businesses. Their work is bringing together farmers and ranchers with value-added products and connecting them to grocery stores, restaurants, festivals, and to consumers.


Their work is vital to our local food economy and I'm proud to be a steering committee member and a sponsor of Delicious New Mexico. I am currently working on producing a Delicious New Mexico food festival and a cookbook entitled "Dishing Up Delicious New Mexico" (Storey Publishing) that features stories about and recipes from DNM members.
I invite you to get involved and become a member or partner today. If you are a New Mexico-based company, you can become a member by going to Deliciousnm.com and clicking on "Membership." If you are out-of-state but would like to help out, make a donation, or become a sponsor, go to the same site and click on "Sponsors." Don't miss out during this exciting time! If you have any specific questions, you may email Delicious New Mexico's director, Vicki Pozzebon, at vickip@deliciousnm.org
The following two tabs change content below.
Publisher | Christened the "Pope of Peppers" by The New York Times, Dave DeWitt is a food historian and one of the foremost authorities in the world on chile peppers, spices, and spicy foods.
Latest posts by Dave DeWitt (see all)