You know it's really fall when every store—from Starbucks to Cost Plus—trots out their special pumpkin-flavored offerings. I keep waiting for McDonald's to come out with pumpkin pancakes for breakfast, but so far they have not deigned to acknowledge the glory of Pumpkin Season. Their loss.
It's no wonder that everybody seems to be jumping on the pumpkin wagon…this country grows so damn many of them, if we didn't find something to do with the harvest, we'd all be up to our necks in rotting squash. Around 1.5 BILLION pounds of pumpkins are produced annually, and according to the University of Illinois, 90 percent of the pumpkins grown in the United States are raised within a 90-mile radius of Peoria.
As part of the Burn! Blog's ongoing pumpkin-related coverage, I decided to fool around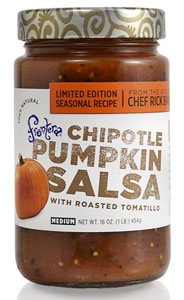 with a jar of Chipotle Pumpkin Salsa with Roasted Tomatillo, produced by Chef Rick Bayless' Frontera Foods company. Rick Bayless is chef of of the famous Frontera Grill and Topolobampo in Chicago, cookbook author, and host of Mexico – One Plate at a Time. He's won many awards for his cooking, including the prestigious James Beard Award. When you check out the incredible list of salsas and other products on the Frontera Foods site, you'll realize pretty quickly that there must be a culinary mastermind behind the scenes. The salsa is not very hot, but the flavor balance is wonderful. The chipotle's smokiness comes through, and the pumpkin is subtle (not cloying or sweet). If you want to try some of the Chipotle Pumpkin Salsa yourself, it can be found at Cost Plus stores, and you can buy it directly from Frontera. But hurry, it's a limited seasonal offering!
My experiment with Rick's pumpkin salsa involved a piece of pork tenderloin, a Crock Pot, and a spaghetti squash. As I'm currently pursuing a low-carb eating program, the idea of a pulled pork sandwich on a big fluffy bun was pretty much out. Spaghetti squash to the rescue! It's a tasty, low-carb alternative to pasta, and made a perfect vehicle for the pork and sauce. Spaghetti squash is not as sweet as other winter squashes like acorn, so the flavor doesn't get in the way of other ingredients. I topped the squash and pork with a reduction of the sauce left in the slow cooker after I removed the tenderloin, so I lost none of the salsa impact. It was a delicious, very satisfying and low-carb dish!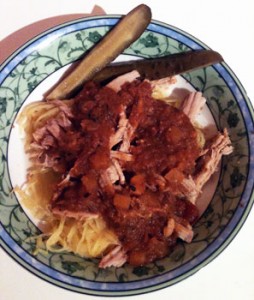 Slow-Cooked Pork with Chipotle Pumpkin Salsa
1 pork tenderloin, 1.5-2 pounds
1 jar Frontera Chipotle Pumpkin Salsa with Roasted Tomatillo
1/3 cup water
cooked spaghetti squash
Wash the tenderloin and pat dry. Season lightly with salt and pepper. If you're using a small crock pot like I did, cut the tenderloin into two halves and place it in the crock pot. Pour the entire jar of salsa over the meat, along with the water. Make sure the salsa gets around and under the meat. Set the crock pot on low and cook for the amount of time recommended for your slow cooker. Because tenderloin is lean and a fairly small volume of meat, mine was done pretty quickly (in 4 hours). It's done when you can pull it apart easily with a fork. Remove the tenderloin onto a plate and shred it.
Take the cooking juice out of the crock pot and place it into a saucepan. Simmer until it has reduced by about half.
Serve the cooked spaghetti squash with the pulled pork on top, and cover with the pumpkin sauce reduction. I enjoyed some sliced dill pickle with mine. Of course, if you want to make a traditional pulled pork sandwich, forget the squash and use bread.
Serves: 4
Heat Scale: Mild
For the Spaghetti Squash:
1 fresh whole spaghetti squash, size doesn't matter
Pierce the squash in several places with a knife and place it on a cookie sheet. Bake it in a 350 degree F. oven for 1 to 1 1/2 hours, until the squash gives when you press it. Remove the squash and allow it to cool a bit. Cut it lengthwise and scoop out the seeds and the darker orange material around the seeds (you can later roast these seeds, just like pumpkin seeds). With a fork, lightly scrape the flesh—it will separate into nifty strands (hence the name, spaghetti squash).
The following two tabs change content below.
Lois Manno
Lois is the Editorial Director of the Burn! Blog and the Fiery Foods & BBQ SuperSite.
Latest posts by Lois Manno (see all)