Photo by Sergio Salvador
Let me start out by saying I absolutely hate fruitcake—that gooey, booze-soaked, heavy, fake-tasting pseudo-confection that always seems to show up and spoil things, just when the holidays are going really well. It's my theory that all those family disturbances, drama and trauma surrounding this time of year stem from the evil influence of fruitcake.
According to Wikipedia and other sites, the oldest reference that can be found regarding a fruitcake dates back to Roman times. The recipe included pomegranate seeds, pine nuts, and raisins that were mixed into barley mash. Honey, spices, and preserved fruits were added during the Middle Ages. Crusaders and hunters were reported to have carried this high-energy food to sustain themselves over long periods of time away from home…sort of a forerunner of Peak, Lara, and other bars. These early expressions of fruitcakery sound delicious to me—how we ended up with the joke-worthy version that has been ridiculed by everyone from Johnny Carson to Truman Capote is unclear. Blame it on industrialization and mass-production.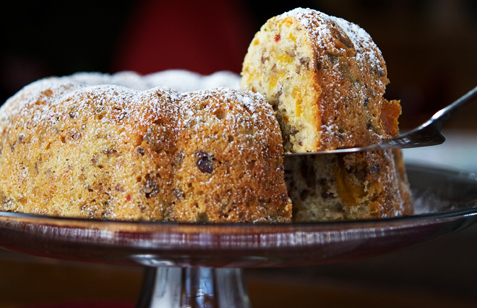 So imagine my surprise when I actually tasted a fruitcake that knocked my socks off. This cake was made by Sunbelt's Food Editor Emily DeWitt-Cisneros, as part of an article that appears on the SuperSite entitled Secret Sweet and Spicy Holiday Cakes. She baked it in a bundt pan and the darn thing looked so appealing, I had to try a slice. The cake maintained the traditional density expected in a fruitcake, but the ratio of cake to fruit was heavily weighted toward the cake side. And it was not drenched in liqueur, which kept the flavor light. Throwing in green chile along with the candied fruit chunks and nuts transformed a traditionally bland dessert into a spicy treat.
Try this recipe, or any of the other cakes in the article. You won't be disappointed.
Not Your Aunt Bertha's Fruitcake
Author:
Prep time:
Cook time:
Total time:
Before you go on to another recipe, stop and give this a try! This is not the famed "traveling fruitcake" recipe—the the mythical fruitcake that never spoils and is never eaten! Nope, this is a green chile fruit cake, new and improved, and sassier than ever.
Ingredients
3 cups chopped pecans (about 12 ounces)
2 cups chopped candied pineapple (about 10 ounces)
3/4 cup chopped dried mangos
1/3 cup chopped candied orange peel (about 1 1/2 ounces)
1 3/4 cups plus 3 tablespoons all purpose flour
1 cup butter, at room temperature
1 cup sugar
5 eggs
1/2 cup green chile, roasted, peeled, stems and seeds removed, chopped
1 tablespoon vanilla extract
1 tablespoon lemon extract
1 teaspoon banana extract
1/2 teaspoon baking powder
Pinch of salt
Powdered sugar
Instructions
Position the oven rack in lowest third of oven, and preheat to 250 degrees F. Grease and flour a 12 cup bundt pan.
In a large bowl, mix the pecans and fruits with 3 tablespoons flour. In another large bowl, cream the butter with the sugar with an electric mixer until light and fluffy. Beat in the eggs 1 at a time. Stir in the green chile, vanilla, lemon and banana extracts. Sift the 1 3/4 cups flour with the baking powder and salt. Add the dry ingredients to the batter and stir until blended. Mix the fruit mixture into batter.
Pour the batter into the prepared pan. Bake the cake until it turns golden brown and a toothpick inserted into the center comes out clean, about 2 1/2 hours. Cool in the pan on a rack for about 15 minutes. When the 15 minutes is up, turn it out onto the rack to cool. Dust with powdered sugar.
The following two tabs change content below.
Lois Manno
Lois is the Editorial Director of the Burn! Blog and the Fiery Foods & BBQ SuperSite.
Latest posts by Lois Manno (see all)