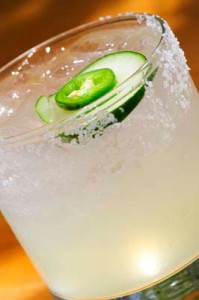 It's finally spring, and for those of us lucky enough to live in the Southwest, it's actually warm enough to work up a thirst by working out in the yard.
According to Burn! Magazine Spirits Editor Michael P. "Martini Mike" D'Arco, "Creative mixologists all over the country are designing new cocktails that will warm you from the inside out with sugar and spice and everything nice. Some of mixology's masters will amaze you as we take a little tour through the spiciest part of the United States—the great Southwest."
Michael's article—entitled "Get Your Kicks Along the Spicy Cocktail Trail"—includes recipes for such drinkable delights as the Desert Domino (featuring honey vodka, lime juice, and saguaro cactus syrup), the Thai Breeze (with Lemongrass-infused vodka, Thai chile syrup, and lemon juice), and a refreshing twist on the classic Margarita, which plays the cool of cucumber against the heat of a jalapeño pepper. Chill our with this recipe from Kate Gerwin, the award-winning mixologist at Casa Vieja Restaurant in Corrales, New Mexico, just outside of Albuquerque. You can travel with Martini Mike as he tours some of the best bars in New Mexico, Texas, California, and Nevada in the April issue of Burn! Magazine. Just request your free copy, grab your shades, climb in, and don't forget to fasten your seatbelt.
Cucumber and Jalapeño Margarita
1 whole lime, juiced
2 slices cucumber
1 slice jalapeño chile
3⁄4 ounce simple syrup
1½ ounces Tesoro Platnium Tequila
Additional slices cucumber and jalapeño for garnish
In a pint glass, muddle the cucumber, jalapeño, lime juice and simple syrup. Add the tequila and ice and shake. Finely strain into a rocks glass with ice. Garnish with the cucumber and jalapeño slices.
The following two tabs change content below.
Managing Editor | Mark is a freelance journalist based out of Los Angeles. He's our Do-It-Yourself specialist, and happily agrees to try pretty much every twisted project we come up with.
Latest posts by Mark Masker (see all)