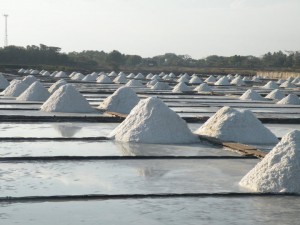 Rick Grice of Maya Natural Sea Salt is working with local Guatemalans to build a sustainable modern commercial salt industry. His company—based in Centennial, CO—is the first to import sea salt from Guatemala to the U.S. The video shows some of this year's salt harvest being collected into "volcanoes" from the evaporation ponds (called "patios"), which will be processed and bagged after the water drains away.
Rick writes, "White Gold or Mayan Sea Salt has been the subject of numerous books and scholarly papers written about the trade routes of the ancient Mayans.  Some have estimated that 3 to 6 tons of sea salt per day had to be transported by canoe and on human backs into the interior to supply the Mayan people whose population then is estimated to have been greater than the population of the same region today. This sea salt was produced on both sides of Central America in what is now Guatemala, Mexico, Belize, and even into Honduras and El Salvador. Recently discovered archeology sites (many now underwater) attest to the vastness of this ancient enterprise. Our FDA-registered operation is within walking distance of one of the Mayan sites."
Maya Natural Sea Salt is sold in bags that are tied with hand-woven Guatemalan fabric sashes, so they make a colorful and festive gift idea for your favorite foodie. You can read more about Maya Natural Sea Salt and pick up some great Mayan recipes at www.fiery-foods.com.
The following two tabs change content below.
Lois Manno
Lois is the Editorial Director of the Burn! Blog and the Fiery Foods & BBQ SuperSite.
Latest posts by Lois Manno (see all)