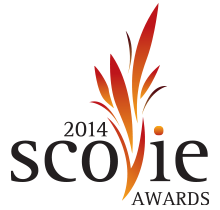 Now in their 18th year, the Scovie Awards have helped out a lot of fiery foods and barbecue companies gain the recognition they deserve. That's never a bad thing when you're trying to get the word out about your great products.
Lusty Monk Mustard won the 2013 Grand Prize after 8 years of entering, and winning no awards at all the first 2 years!
The 2011 awards featured an exact TIE for the Grand Prize, Tasting Division. Poco Dolce and Barhyte Foods were co-winners.
Word about the Scovies has spread all over the world. It is NOT just an U.S. Competition.
Garden Fresh Salsa is the all-around top Scovie winner with hundreds of awards dating back 10 years.
Winners now receive not only banners but grand prize winners receive Disc-It outdoor cooker. If you're thinking about entering the 2014 Scovie Awards, maybe you'd like to learn how we judge the contest. Now you can watch our high-budget, award-winning short film in glorious Technicolor, by clicking here.
Regular Schedule:
Deadline is September 6.
Consumer-Ready Contest: $90
Advertising and Marketing Awards: $90
Cook-It-Up Contest (no meat required) $100
Cook-It-Up Contest (meat required) $145
Scovie Judging:
The judging will be held September 23 at the County Line BBQ Restaurant in Albuquerque.
To enter the 2014 Scovie Awards, go here.
If you need more information, or if you have any questions, you'll find an email address for Emily DeWitt-Cisneros here, or call her at (505) 873-8680.
The following two tabs change content below.
Managing Editor | Mark is a freelance journalist based out of Los Angeles. He's our Do-It-Yourself specialist, and happily agrees to try pretty much every twisted project we come up with.
Latest posts by Mark Masker (see all)