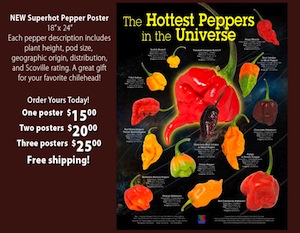 Jim Maley recently emailed us with this great question:
"I have grown the Trinidad Moruga Scorpion per the name on the seed packet. Is this the correct name or is it Trinidad Scorpion Moruga Blend (or are both names correct)? Is there a heat difference between just plain Trinidad Scorpion or the Morguga variation? Personally at this level it's really hard to tell the heat difference between the Scorpion and the Ghost. Many Thanks!"
Jim:
Chile nomenclature in general is totally screwed up, but with superhots it's even worse. In the first place, with a very few exceptions, the really superhot ones (1/2 to 1 million plus Scoville Heat Units) all came from Trinidad, even 'Bhut Jolokia'. Most are not real varieties that breed true, but rather interspecific hybrids.  In other words, they're all closely related. 'Moruga' was one of the Trinidadian "varieties," along with 'Scorpion', '7-Pot,' 'Barrackapore', and a few obscure ones. I think someone again did a cross between 'Moruga' and 'Scorpion' and came up with another hybrid that took the supposed "world record" with a single, uncorroborated test. After the 2013 season we will have heat level data on all these varieties from our Las Cruces superhot field, all using identica  collection and testing procedures, by analytical chemist Marlin Bensinger of Chromtec, a partner on the project.  We will post it in detail on the Supersite. Stay tuned.
Dave
The following two tabs change content below.
Publisher | Christened the "Pope of Peppers" by The New York Times, Dave DeWitt is a food historian and one of the foremost authorities in the world on chile peppers, spices, and spicy foods.
Latest posts by Dave DeWitt (see all)