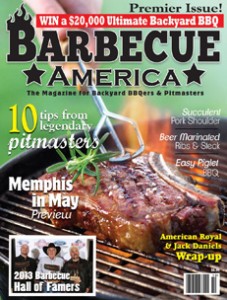 We'd like to offer our sincere congratulations to SuperSite contributor, writer, and TV personality Rick Browne on his new job as editor-in-chief of the new magazine, Barbecue America. It's a bi-monthly print publication for those who want more than just the annual June run of single issue 'que mags. Here's the official press release from Rick himself:
"I am pleased to announce that in the Spring of 2014 there will emerge a national magazine devoted 100% to the art and business of barbecue. Would like to work with you guys and have Dave as one of my contributing editors coming up with barbecue-related hot pepper stories and features. Also there is a great potential here for you to promote fiery foods, your cookbooks, and your Fiery Foods and Barbecue show and in the magazine. Will think about having a booth there next year.
The reason I'm sharing this is that I've just been hired as the Editor-In-Chief of BARBECUE AMERICA MAGAZINE and want to spread the word about a magazine centered on the barbecue culture I've been involved with for more than a decade as we produce a magazine that features and highlights the magic of great barbecue 365 DAYS A YEAR. Not in just one-off, "it's June so it's time for BBQ" issues in food magazines – year round grillin' and smokin.'
BARBECUE AMERICA MAGAZINE will be a new bi-monthly magazine that fills its pages with interviews with legendary pitmasters, their tips and recipes, reviews of the best barbecue restaurants, great recipes, wine and beer pairings, and an authoritative and reliable news source for all-things barbecue. Whether you're a pitmaster or a backyard BBQer, BARBECUE AMERICA MAGAZINE will provide a unique perspective on the latest in barbecue.
BARBECUE AMERICA MAGAZINE will be a standard 8-1/4" x 10-7/8", 96 to 100 page, glossy-cover magazine, and has committed to print 250,000 copies of its first six issues and will be available in print, digital, and PDF downloads with an accompanying website at www.bbqam.com. The magazine retails for $6.99 and will be distributed via newsstands, subscription, and at key barbecue events across the United States.
We'd love to hear from you what barbecuers want in THEIR magazine, what do you want to read about, whom do you wish us to interview and profile, what favorite bbq restaurants should we visit, what tips, techniques and culinary gems do you want us to seek out and share, what contests should we visit and write about, and how can we make sure OUR magazine is YOURS!
Please share this with your friends and if you wish please go to Barbecue American on Facebook and "like" us–I promise we'll like you back!
ThankQUE,
Rick Browne"
The following two tabs change content below.
Managing Editor | Mark is a freelance journalist based out of Los Angeles. He's our Do-It-Yourself specialist, and happily agrees to try pretty much every twisted project we come up with.
Latest posts by Mark Masker (see all)