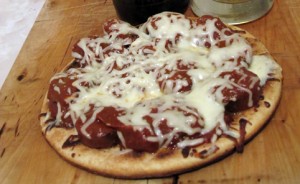 When Dave ran Sharon Hudgins' The Cult of Currywurst at the SuperSite a couple of months back, it got me to thinking about new ways we could play with currywurst here on the blog.
Currywurst is pretty much what it sounds like: bratwurst or other German sausage in a curry sauce. It originated as a German street food in 1949 when a woman got her hands on some curry from British soldiers stationed in Berlin after the war. Since then, it's not only become the German equivalent of the street taco here in the U.S., people upped the heat ante with all kinds of chile peppers in it.
Seeing as how the fall sports season has kicked in, I thought grilled currywurst pizza would be a great twist for home grillers and tailgaters alike. You can find Sharon's recipes here. I used her Quick Currywurst Sauce recipe since it seemed easier to make if you're tailgating. I mean, come on, what kind of tailgater doesn't have a bottle of ketchup lying around? Just don't use cheap ketchup like I did the first time I made it unless you want your currywurst extra sweet. Crappy ketchup has way too much sugar. I also pre-cooked the sausage beforehand to save some time.
Currywurst Pizza
Recipe Type
:
Grilled Pizza
Author:
Prep time:
Cook time:
Total time:
Ingredients
1 package of 5-6 Johnsonville bratwursts, pre-cooked and sliced
1 package of 2 Boboli mini pizza crusts
2 cups grated mozzarella cheese
2 cups tomato ketchup (such as standard Heinz Tomato Ketchup)
3 tablespoons mild curry powder
2 teaspoons Hungarian hot paprika
1/8 teaspoon dry mustard powder
1/8 teaspoon ground ginger
Pinch of salt
1 teaspoon cider vinegar
1 to 2 tablespoons water
Garnish: Curry powder (mild, medium, or hot, to taste)
Instructions
Heat your grill to medium high heat.
Combine all the ingredients (except the cheese, sausage, pizza crusts, water and the curry powder garnish) in a small saucepan. Cook over medium heat, stirring constantly, until the mixture is hot. If the grill feels too hot, heat indirectly.
Thin the sauce to the consistency you want, with 1 or 2 tablespoons of water, and continue heating and stirring until the mixture is hot.
Set the pan aside.
Place the pizza crusts on the grill for indirect cooking. Close the lid and heat the crusts for 4-5 minutes.
Open the grill, flip the crusts, and add the currywurst mixture to each one. Top the pizzas with the cheese.
Close the lid again. Grill the pizzas for another 4-5 minutes or until the cheese is melted. Remove the pizzas and cut into slices.
The following two tabs change content below.
Managing Editor | Mark is a freelance journalist based out of Los Angeles. He's our Do-It-Yourself specialist, and happily agrees to try pretty much every twisted project we come up with.
Latest posts by Mark Masker (see all)