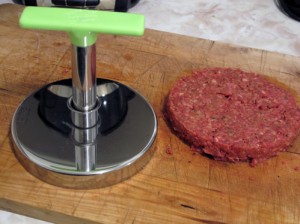 Football season means tailgating and that's where Burger Stomper comes in. Seeing as how I loves me some tail(gating) and a good burger, this seemed like a good time to take Burger Stomper out for for a test drive.
It's a three-piece stainless steel burger press with a screw-on handle joined to a disc inside a shaping cup. Our kit came with two different sized presses–one for six ounce burgers and a smaller 2 ounce one for sliders.
The disc acts as a separator between the press and the meat to eliminate sticking. Using Burger Stomper is as straightforward as it looks. You just place it over a wad of ground meat, press it down, and trim the excess away from the edge of the press. Lift up the handle and you're ready to grill.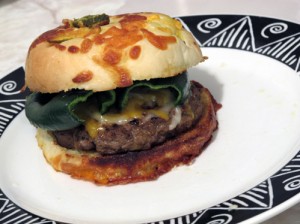 Pros: Easy to use, effective, great alternative to lumpy hand-pressed burgers if you want something more presentable than that.
Cons: None, really.
Value: You get more bang for similar buck with this press than with its competition. I've found other burger presses for considerably less but most of them were made of either plastic or aluminum. None offered a slider attachment, however. More durable cast iron presses were both heavier and right around the same price (you can buy Burger Stomper on Amazon for $20.99+shipping).
The following two tabs change content below.
Managing Editor | Mark is a freelance journalist based out of Los Angeles. He's our Do-It-Yourself specialist, and happily agrees to try pretty much every twisted project we come up with.
Latest posts by Mark Masker (see all)