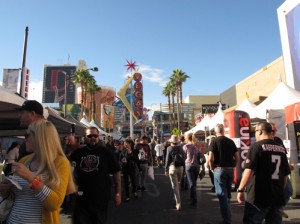 It's possible I could have had more fun at the 2013 World Food Championships—I just would've needed bail money to do so. Too much happened to tell you in one blog post so I'm opening up with this overview. If you want a visual guide, you can check out our photo album on our Facebook page. Seeing how the event invaded Downtown Sin City this November 7-10, let's break down the festivities by their corresponding Seven Deadly Sins.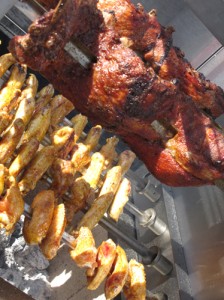 Gluttony
Kind of obvious, yes, I know. That's why we're doing it first. Four hundred competitors faced off across seven different food competitions with a $300,000 prize pool in the balance. The big seven contests were barbecue, chili, burger, bacon, recipe, dessert, and sandwich. Entrants were invite-only; you had to win a qualifier somewhere else to be asked to compete. There were also plenty of live demos as well as free samples from exhibitors like Maple Leaf Farms, Dole, and Big Green Egg.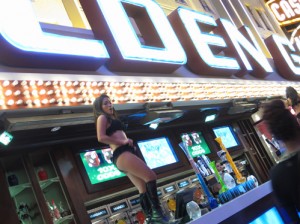 Lust
Let's just say Vegas has a lot of strip clubs open year round and leave it at that. Oh, and the smell of all that barbecue, chili, and more on Fremont Street really woke up my food lust. The whole event took place up in the open air. The sweet scent of smoke and chiles was especially wonderful at the far end where the barbecue and chili folks were set up.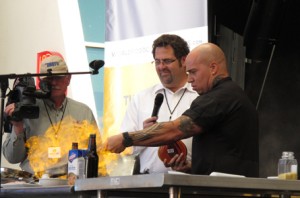 Wrath
Honestly, there wasn't much happening in the anger department, although I got served two things I don't like to eat: walnuts and raw onion. However, the foods they were in were so good that I totally didn't care. If that's the worst thing you can say about a food event, life is pretty good.
I suppose there might have been a little butting of heads between the KCBS or ICS and the World Food Champsionships rules makers at some point. Generally, competition organizers don't like tweaks to their rules systems or judging criteria. Some of the Day 1 KCBS judges were a little upset that the day's competition didn't count for getting points in their judge's books. They were even less thrilled that since only three of the four KCBS meat categories were being represented throughout the event (no chicken), they'd only get 3/4 of a point if they judged on Day 2 anyway.
The ICS had to use the competition's EAT criteria instead of its own (Execution, Appearance, Taste). No one seemed upset about that but I'd love to know how the ICS higher ups felt about making the change.
Sloth
Two words: food coma. That is all.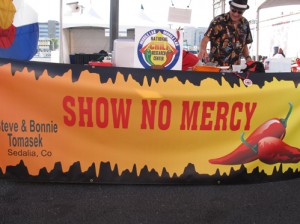 Greed
In a city that lives on gambling, greed hovers over everything like Los Angeles smog. Fremont Street is rife with old school casinos like Binion's Horseshoe, The Plaza, and Four Queens. With $300,000 on the line, it's a safe bet every competitor on Fremont Street had their mind on that money and that money on their mind.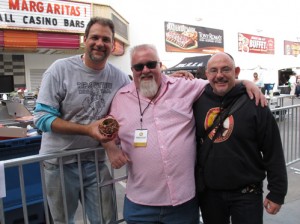 Envy
Watching these elite competitors put together their best foods up close and personal was enough to inspire anyone (I'm entering my first chili competition next March). Coming out here to play cost some teams thousands of dollars, with no guarantee of a payoff. That's how much they love what they do. If you don't want to shell out that kind of scratch and you don't win one of the qualifiers, you can still participate as a judge by signing up here. I can't recommend doing this enough. Judging at the World Food Championships is a terrific experience in and of itself. At least, it was for me.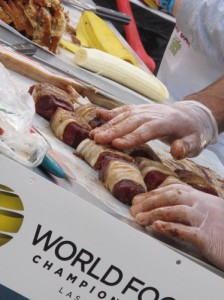 Pride
Finally, there's the pride that comes from making the top ten in your category, especially if you fought against the best and actually won. Dave Elliott of Porky McBeef and the Cluckers was the overall champion, winning $50,000 and that title. Here are the first and second place winners by category, according to the World Food Championships official site:
BBQ
1. Pitmaker- BBQ Addiction (Howard, Victor)
2. Whippen, Lee Ann
Bacon
1. Heredia, Ricardo
2. Ribs Within
Burger
1. Second City Smoke (Fortin, Wade)
2. Cypress Street
Chili
1. Bogart, Ray
2. Ballweg, Gary
Dessert
1. Judd, Nancy
2. Porky McBeef and the Cluckers
Recipe
1. Peterson, Beth
2. Clark, Suzanne
Sandwich
1. Daskevich, Jennifer
2. Katherine Rehfeldt Tonn / Gouda Girls (Rehfeldt, Katherine)
The following two tabs change content below.
Managing Editor | Mark is a freelance journalist based out of Los Angeles. He's our Do-It-Yourself specialist, and happily agrees to try pretty much every twisted project we come up with.
Latest posts by Mark Masker (see all)