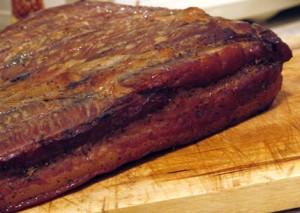 Apparently, two dozen gingerbread strippers and a bottle of cheap scotch wasn't enough to buy Santa's forgiveness last year. He did not provide the Big Green Egg I'd requested despite my generous bribe. I found plenty of fuel for an Egg in my stocking, though.
This year I'm upping the ante. No jolly old elf can resist three different types of Christmas pork waiting on a plate. While I'm at it, I'll share the recipes as I go along. If it works, maybe you can buy your naughty self into his good graces too. Christmas bacon seems like a good lead-in. Here's how I'm going about it.
Masker's Christmas Bacon
Recipe Type
:
BACON. That's all I need to say.
Author:
Prep time:
Cook time:
Total time:
This should get me that Big Green Egg. If not, I'll still have some to feed family Christmas morning.
Ingredients
5 lb trimmed pork belly slab, skin on
1/4 cup kosher salt
1/2 cup dark brown sugar
1 tablespoon cinnamon
1 tablespoon nutmeg
1 tablespoon ginger
Instructions
Mix everything except the pork belly.
Rub the mixture over all surfaces of belly, coating it completely.
Place the pork in a 1.5 gallon Ziplock bag. Set in the refrigerator.
Flip the belly once every 24 hours for a week. The cure should suck out the moisture, forming a brine. The pork belly must soak in the brine at all times.
After that week, rinse the belly off, the dab it dry with a paper towel.
Leave it in the fridge on a grill rack overnight to dry.
Smoke with apple wood it at 225 degrees for 3 hours. Remove the skin while the bacon is still hot.
Slice the slab bacon up as desired, fry it, and enjoy.
The following two tabs change content below.
Managing Editor | Mark is a freelance journalist based out of Los Angeles. He's our Do-It-Yourself specialist, and happily agrees to try pretty much every twisted project we come up with.
Latest posts by Mark Masker (see all)