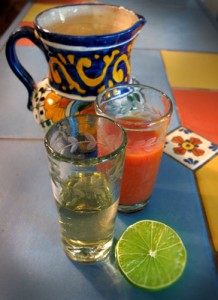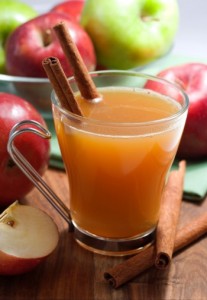 Well, we're about to leap into 2015, so we guess some celebrating is in order. But first, some comments about celebrations on New Year's Eve from some wise philosophers. "I'm not a drinker," said Woody Allen, "my body won't tolerate spirits, really. I had two martinis New Year's Eve and I tried to hijack an elevator and fly it to Cuba." Don Marquis confesses: "I drink only to make my family seem interesting." And perhaps the wisest philosopher all, the great Henny Youngman, said about his family, "My grandmother is over eighty and still doesn't need glasses. Drinks right out of the bottle." We're going one step better than that. Here are two of our favorite Christmas and New Year's Eve drinks.
Sangrita de Chapala (Chapala's Little Bloody Drink)
Author:
Prep time:
Cook time:
Total time:
This particular version of sangrita, or "little bloody drink," comes from Chapala, Mexico, where the bartenders have not succumbed to the temptation of adding tomato juice to this concoction, as the norteamericanos do. The bloody color comes from the grenadine, so this is truly a sweet heat drink that is also salty. Some people take a sip of tequila after each swallow of sangrita, while others mix one part tequila to four parts sangrita to make a cocktail.
Ingredients
2 cups orange juice
3/4 cup grenadine syrup
2 teaspoons Mexican hot sauce of choice (or substitute any habanero hot sauce)
1 tablespoon salt
Instructions
Combine all the ingredients in a jar, shake well, and chill.
Ancho Chile and Rum-Mulled Citrus Cider
Author:
Prep time:
Cook time:
Total time:
Ingredients
2 quarts apple cider
1 tablespoon finely ground ancho or pasilla chile
1 lemon, sliced very thin
1/2 orange, sliced very thin
2 teaspoons lemon juice
4 3-inch cinnamon sticks
2 tablespoons whole cloves
2 cups dark rum
Instructions
Combine all of the ingredients in a large saucepan and heat, but do not bring to a boil.
Simmer on low heat for 15 minutes.
Strain the mixture through a sieve, pour into mugs, and serve warm.
The following two tabs change content below.
Publisher | Christened the "Pope of Peppers" by The New York Times, Dave DeWitt is a food historian and one of the foremost authorities in the world on chile peppers, spices, and spicy foods.
Latest posts by Dave DeWitt (see all)