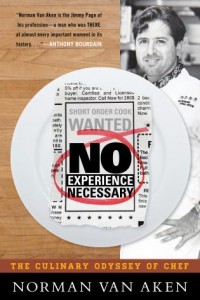 The theme of this year's National Fiery Foods & Barbecue Show is "Going Tropical" in honor of Chef Norman Van Aken who's been called "the founding father of New World Cuisine," a fusion of a Latin, Caribbean, Asian, African, and American flavors. Chef Norman is not only debuting his new book at the show, No Experience Necessary, an autobiography of his culinary career, but also will perform two tropical cooking demonstrations.
Chile peppers loom large in Van Aken's cooking. "Everyone has a different tolerance and attitude when it comes to spicy chiles," he says. "I find it fascinating that many people who were not chile enthusiasts in the past are becoming converts now—and in a big way." And he'll be surrounded thousands of those converts at the 26th annual show.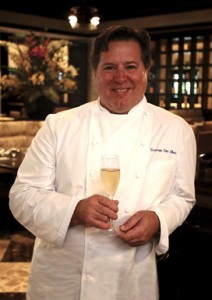 Chef Norman is only Floridian inducted into the prestigious James Beard "Who's Who in American Food and Beverage," his restaurant Norman's in Orlando was nominated as a finalist for the James Beard Foundation's "Best Restaurant in America," and he's been a James Beard Foundation semi-finalist for "Best Chef in America."
The National Fiery Foods & Barbecue Show is February 28 through March 2 at Sandia Resort and Casino. Chef Norman's cooking demonstrations are Friday at 6 pm and Sunday at 1:30 pm in the Cooking Tent. To give you a taste of what's to come, one of his most famous spicy recipes is below.
If you want to get a jump on the Fiery Foods Show, Norman Van Aken also will be a guest on Jimmy Kimmel Live! tomorrow night at 11:35pm/10:35pm CT on ABC. Norman will be preparing a few dishes with Jimmy and dishing the dirt from his new book No Experience Necessary: The Culinary Odyssey of Chef Norman Van Aken (published by Taylor Trade).
Rhum and Pepper-Painted Red Snapper with Mango-Habanero Mojo
Author:
Prep time:
Cook time:
Total time:
Ingredients
4 8 ounce red snapper, black grouper, mahimahi, or salmon fillets
1 tablespoon peanut oil or cooking oil
1 lime, cut into wedges
1 recipe Rhum and Pepper Paint
1 recipe Mango-Habanero Mojo
Instructions
Rinse fish; pat dry with paper towels.
Generously brush cooled Rhum and Pepper Paint on curved side of each fish fillet.
In an extra-large cast-iron skillet heat oil over high heat. Add fish, paint side down; cook about 2 minutes or until dark, shaking pan a few times to prevent fish from sticking.
Carefully turn fish, paint side up. Transfer skillet to a 450-degree F. oven. Bake for 7 to 9 minutes or until fish flakes easily with a fork.
Meanwhile, heat Mango-Habanero Mojo until warm. Spoon about 1/2 cup mojo onto each plate. Place fish on top of mojo. If desired, drizzle with a little of the remaining paint.
Serve with fried plantains and lime wedges.
Mango-Habanero Mojo
Author:
Prep time:
Total time:
Ingredients
2 ripe mangoes, peeled, pitted, and coarsely chopped
1/2 cup Chardonnay or other dry white wine
2 tablespoons orange juice
1/2 of a habanero pepper or Scotch bonnet pepper, seeded and finely chopped
Instructions
In a blender container or food processor bowl combine mangoes, Chardonnay and orange juice.
Cover and blend or process until smooth.
Strain through a medium-fine mesh strainer to eliminate the fruit pulp so the sauce is nice and smooth. Stir in habanero pepper. Cover and refrigerate until ready to serve.
Rhum and Pepper Paint
Author:
Prep time:
Cook time:
Total time:
Ingredients
2 tablespoons whole black peppercorns
12 whole cloves
3/4 cup soy sauce
3/4 cup white rum
1/2 cup sugar
3 tablespoons finely shredded lemon peel
2 tablespoons lemon juice
Instructions
In a small skillet toast whole black pepper corns and cloves over medium-high heat about 1 minute or just until mixture starts to smoke; cool slightly.
Transfer to a spice grinder or a clean, dry blender container; cover and grind or blend until coarsely ground.
In a medium saucepan combine the ground spices, soy sauce, white rum, sugar, lemon peel, and lemon juice. Bring to boiling; reduce heat to medium. Cook, uncovered, about 30 minutes or until 3/4 cup mixture remains (should be syrupy like honey).
Strain through a fine mesh strainer. Cool to room temperature.
The following two tabs change content below.
Publisher | Christened the "Pope of Peppers" by The New York Times, Dave DeWitt is a food historian and one of the foremost authorities in the world on chile peppers, spices, and spicy foods.
Latest posts by Dave DeWitt (see all)