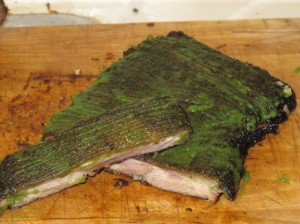 Sriracha isn't supposed to be green. I know this because it's red. It's always red. It's always BEEN red. I've never seen green sriracha in my fridge before. If I had, I'd have believed it to have gone bad.
Until now.
Musashi Foods' Midori Green Sriracha sauce flies in the face of that belief. It's a Serrano chile-based sweet sriracha sauce containing rice vinegar, brown sugar, salt, red cabbage juice, and tumeric, with a very nice burn at the end that lingers the more of it you eat. When I barbecued the pork ribs for this story, the sauce gave them a green hue but you couldn't see it well enough for a picture. I left half one rack as-is but for the photo model, I lathered on a second coat.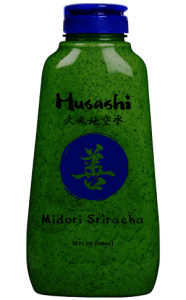 I was afraid the second lather had killed a great rib with too much heat. Lucky for me, I was wrong. That extra sauce kicked the spice factor into overdrive. It didn't come close to overpowering the spice rub I'd used during cooking and I plan on making a lot more recipes with this stuff. If you like sriracha red, you really should give the green a try. Not only is it tasty in its own right, just imagine the looks on your friends faces when you serve them green ribs.
Green Sriracha Pork Ribs
Author:
Prep time:
Cook time:
Total time:
Ingredients
1 rack pork spareribs
1 teaspoon instant coffee
1 teaspoon lemon pepper
1 teaspoon black pepper
1 tablespoon sea salt
1 tablespoon onion powder
1 tablespoon granulated garlic
Green sriracha sauce
Instructions
Prep your smoker for cooking at 220 degrees F.
Mix all of the dry ingredients together into a rub and coat the ribs on all surfaces.
Smoke the ribs for three hours. Wrap the ribs in foil (optional: pour a 1/4 cup of apple juice in the foil first).
Return to heat. Continue cooking for another hour. During the last 15 minutes of cooking, brush the ribs with the sriracha. If you want them very hot, brush again as you remove them from the smoker.
Let them rest in the foil for 10 minutes.
Cut up the rack and serve.
The following two tabs change content below.
Managing Editor | Mark is a freelance journalist based out of Los Angeles. He's our Do-It-Yourself specialist, and happily agrees to try pretty much every twisted project we come up with.
Latest posts by Mark Masker (see all)