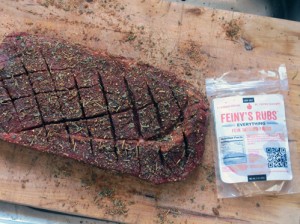 Now that I've caught your attention with a very tasteless pun, it's time to introduce you to a very tasteful seasoning rub. Adam Feinberg is the big brain behind Feiny's Rubs and last week I had the opportunity to try his Everything Rub on a 3 pound London Broil I was barbecuing for friends.
I first met Adam at last year's World Food Championships and his enthusiasm for the chef's craft is almost as tasty as this rub was to me. He's currently a chef in Denver and has partnered up with Jonathan Knopf, Ribs Within BBQ Team founder Doug Keiles former partner-in-crime. They've formed their own team and hit the circuit earlier this year.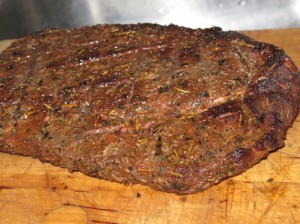 Feiny's Everything Rub tastes very sweet when you pour a little in your hand (thanks to the brown sugar in it). During cooking, some of that sweet cooked off but it was still plenty present when I snuck a slice of broil while no one was watching (cook's privilege, don't hate). What wasn't present was a whole lot of salt. This is a low-salt rub that really emphasizes the sweet and seasonings, including cinnamon, over the salty. It worked very well with the hickory chips I used to smoke the beef and everyone loved the finished product.
Adam's flagship product is Feiny's Chesapeake Bay Rub. Hopefully we'll be trying that next.
The following two tabs change content below.
Managing Editor | Mark is a freelance journalist based out of Los Angeles. He's our Do-It-Yourself specialist, and happily agrees to try pretty much every twisted project we come up with.
Latest posts by Mark Masker (see all)