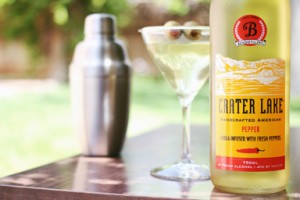 Writing and Photo by Greg Mays
Readers of the Burn! Blog know their peppers, and while my work at Simple Cocktails gives me fewer opportunities to taste the spicy stuff, I've had some great pepper-based liquor over the last few months.
Based out of Oregon, Crater Lake is a boutique brand distilled by Bendistillery, who has a range of vodkas and gins, plus a newly-introduced rye whiskey. For the Burn! Blog, I tried Crater Lake Pepper, a vodka with serrano, habanero, anaheim, and red and yellow bell peppers.
There are a handful of ways to flavor a liquor. One is during distillation, where the flavors are placed in the still and are boiled or steamed into the final product – a common way to make gin. Another is with chemicals, by adding pre-made flavoring (and even sometimes sugar) to the finished product, mixing it, and bottling it. This is usually the method for some of the odd vodka flavors like marshmallow. Crater Lake, though, infuses theirs with the peppers, allowing the flavors to naturally soak in the vodka, then filtering out the final liquid. Infusion has a particular advantage over distilling in that because the process involves little-to-no heat, so the flavor of the peppers is preserved.
Crater Lake Pepper is a savory vodka with a decent helping of spice (thanks to the habaneros), and surprisingly, it's a great complement to sweet flavors. The balance between the various peppers in this vodka is good, and prevents the pepper flavor from being too overpowering for a cocktail.
Recipes on Bendistillery's page include cocoa with Crater Lake Pepper, and Pepper complements cold coffee drinks very well, too. Below are two cocktail recipes to try it in.
Greg Mays is the managing editor of Simple Cocktails at www.simple-cocktails.com.
Reverse Peppertini (pictured)
Author:
Ingredients
1 oz Crater Lake Pepper
2 oz of a sweet white vermouth (I used Contratto Bianco)
Splash of olive brine
Instructions
Shake and serve in a chilled cocktail glass with olive garnish.
Ice and Fire
Author:
Ingredients
1 oz Crater Lake Pepper
2 tbsp vanilla coffee syrup
7 oz double-brewed coffee
Instructions
Blend the ingredients together with crushed ice and serve with a whipped cream topping.
The following two tabs change content below.
Cocktail Editor | Greg is the classic cocktail aficionado and recipe developer at Simple Cocktails, his "place for the intimidated home bartender to shed some fear."
Latest posts by Greg Mays (see all)