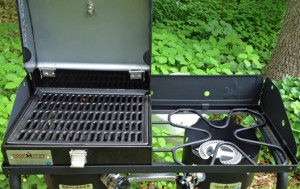 I recently got a Camp Chef two-burner "Explorer" camp stove and a "barbecue grill box" for use while camping and during power outages (that are somewhat common during New England winters or hurricane season). What makes the Explorer different from a traditional BBQ grill is that it has two 30,000 BTU burners but no grilling surface. Without the BBQ box or other optional accessories, pots and pans are needed for cooking.
The Explorer stove has 448 square inches of cooking area and is designed to use all 14-inch Camp Chef accessories such as griddles or Dutch ovens, making it extremely versatile. Once the regulator and detachable legs are attached it is ready to use out of the box. It has a three-foot hose for connecting to a standard propane tank. The stove weighs 40 pounds.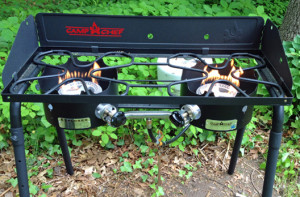 Optional folding side shelves ($44) make the stove an easily transportable cooking station for car camping or backyard cooking. The stove does not come with an igniter so a long match or butane lighter is needed.
The barbecue box turns the stove into a 14-inch by 16-inch grill or smoker. It has a porcelain coated heat diffuser plate and a pre-seasoned 224 square inch cast iron grate. To use it as a smoker, simply add pellets or chips to the diffuser plate. Other features include a handle and latching lid for moving the box to and from the stove and a built in temperature gauge. It weighs 22 pounds and costs $109. A larger BBQ box covering both burners is also available.
For my inaugural run with the Explorer and the BBQ box, I prepared smoked Cajun chicken breasts.
Smoked Cajun Chicken Breasts
Author:
Ingredients
4 boneless, skinless chicken breasts
Olive oil
1 cup sugar maple pellet
2 tablespoons Cajun seasoning (recipe below)
2 teaspoons smoked coarse kosher salt
1 teaspoon ground cayenne chile
1 teaspoon granulated garlic
1 teaspoon smoked sweet paprika
1/2 teaspoon dried oregano
1/2 teaspoon dried thyme
1/2 teaspoon freshly ground smoked black pepper
1/2 teaspoon granulated onion
Instructions
Combine all of the seasoning ingredients in a small bowl. This recipe makes about 2 1/2 tablespoons of seasoning.
Lightly coat the chicken breasts with olive oil and season them with the Cajun seasoning. Remove the cooking grate and prepare the barbecue box for 225 degrees F. cooking and add the pellets.
Place the cooking grate above the heat diffuser.
When a good smoke develops, place the breasts on the cooking grate, close the cover, and cook to an internal temperature of 165 degrees F., about one hour.
The following two tabs change content below.
Grilling & BBQ Editor | Mike holds a "Doctorate of Barbeque Philosophy" (Ph.B.) degree from the Kansas City Barbeque Society. His book Mastering Barbecue has been called the "go-to" book for BBQ knowledge.
Latest posts by Mike Stines (see all)