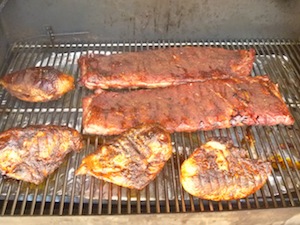 I've been doing a lot of practicing with my Yoder YS640 Smoker recently, with the focus on on shorter smoking times and a greater production of food for the wood pellets I use. I've discovered that I can smoke two large slabs of St. Louis-style ribs and four large chicken breasts at the same time in about 3 to 4 hours. That beats the hell out of 16-hour briskets. Not that I have anything against briskets–it's all about staying awake, and frankly that's a pain in the ass when you're a senior smoker like me.
To me, chicken and pork are spice magnets, so a chile-infused rub done right works on just about every meat. I also add spicy BBQ sauce to the ribs for the final stage of wrapping them in heavy aluminum foil so they steam a little and soften the spice-infused meat.
The cooking temp was 235 degrees F. and the chicken breasts were juicy, spicy, and perfect. I added some BBQ sauce but Mary Jane did not. She made a pear and pecan salad and it worked perfectly with the barbecued chicken. Summer is great here in the South Valley of Albuquerque.
The following two tabs change content below.
Publisher | Christened the "Pope of Peppers" by The New York Times, Dave DeWitt is a food historian and one of the foremost authorities in the world on chile peppers, spices, and spicy foods.
Latest posts by Dave DeWitt (see all)