This week's Hot News is all about beer dog chow, Mexican pepperoni, and a sandwich recipe contest that could nab you $25,000. One of those other two items might go pretty good on a sandwich, come to think of it. The other? Not so much unless your name is Fido.

Free Barbecue for a Year
Roland Dickey, barbecue expert and chairman of Dickey's Barbecue Pit, hits Dickey's Barbecue Pit Las Vegas on Friday, June 13 from noon to 2 p.m. for a Customer Appreciation Day. He'll hand out 100 free signed cookbooks and three lucky customers will win free barbecue for a year.Both Las Vegas locations will be serving $2 sandwiches from noon to 2 p.m. The store is located at 7430 Las Vegas Boulevard South. Call the store at (702) 220-4227 or check out their Facebook page for details.
The Mexitalian Job
Pizza Patrón's Pepperoni Mexicano is exactly what it sounds like—pepperoni infused with proprietary spices and jalapeño. Tyson Foods developed the stuff exclusively for Pizza Patrón for those who want a more intense take on the classic pizza topping. Get the rest of the story here.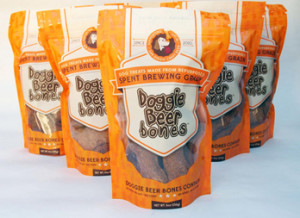 Dog Treats: Dark, Light, or Amber?
A brewery may use up to 50,000 pounds of grain a day to making the suds we enjoy at a pub or at home. After all that grain is soaked in water to extract the starch, the grain is discarded like a chain email from a Nigerian prince.
Until recently. Now the beer industry turns the leftover grain into products ranging from soap to dog treats. Check out more here.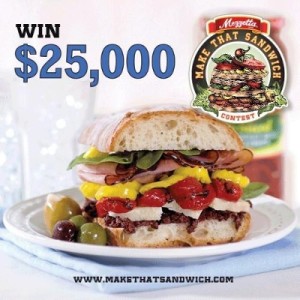 25,000 Reasons to Enter This Contest
Mezzetta Specialty Foods' 7th Annual Make That Sandwich Contest runs through Labor Day and you could win $25,000 if your concoction is the chosen one. That's a lot of cheddar for two slices of bread. The grand prize winner gets $25,000, and two runners-up each receive $1,000. You can enter your favorite sammich recipe here. Each original sandwich recipe will be judged based on originality, use of Mezzetta products, ease in preparation and taste.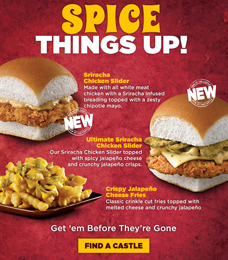 Jalapeno and Sriracha Go to White Castle
Listen up, Sonic. Remember last week, when we had that nice sit-down about the jalapeno chocolate shake? I've been thinking, and you may want to try to be more like your fast food cousin, White Castle. Not all the time. We love you for who you are and all but in this one thing, you might be better served to do what they did: adding Sriracha and jalapeno strings to sliders.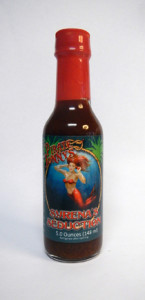 Getting Jerked Around by a Pirate
Well, not really. Pirate Jonny's came out to the Fiery Foods Show this year and a had a great time introducing all of us to their line of spice rubs and barbecue sauces. Now they've launched a new jerk hot sauce in response to customer demand that they make one. Dubbed Syrena's Seduction, the new sauce will be available for purchase online later this month. You can check it out here or call (813) 376-9185 directly to buy it now.
.
The following two tabs change content below.
Managing Editor | Mark is a freelance journalist based out of Los Angeles. He's our Do-It-Yourself specialist, and happily agrees to try pretty much every twisted project we come up with.
Latest posts by Mark Masker (see all)