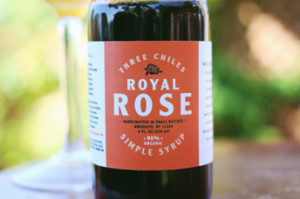 Simple syrup is an important ingredient for any bar, a 2-to-1 mixture of sugar and water which dissolves more easily in the cold liquids of a cocktail. In classic cocktails like a Mint Julep or the Daiquiri, simple syrup is essential.
Royal Rose offers a wide range of flavored simple syrups to add subtle flavoring changes to familiar cocktails, and can give you the opportunity to create brand new cocktails with creative flavors. The company produces their syrups organically, by hand, in small batches, with whole ingredients. Royal Rose offers 7 flavors at this time: Lavender Lemon, Rose, Raspberry, Three Chile, Saffron, Cardamom Clove, and Tamarind. For the Burn! Blog, I tried Three Chile.
To create Three Chile Simple Syrup, Royal Rose combines fresh poblano and jalapeño peppers with dried ancho chiles and organic sugar. An 8-oz bottle of the syrup is $11 directly from the manufacturer, and Royal Rose is often available at many liquor stores as well.
A chile-based simple syrup is an interesting cocktail ingredient, as the sweetness of the syrup offsets the spice of the chiles. I made an Old Fashioned and substituted a teaspoon of Three Chiles for the usual simple syrup and I enjoyed the subtle flavor change.
Royal Rose has some ideas on their website for original cocktails with their simple syrups, but the cocktail printed on the side of the Three Chiles bottle, the Pancho Villa, looked great and I chose to try it first.
The syrups from Royal Rose give you the opportunity to add subtle flavoring and sweetness to your cocktails and give you the ability to add the same fresh flavors to any food or drink, from hors d'oeuvres to homemade sodas.
Greg Mays is the managing editor of Simple Cocktails at www.simple-cocktails.com.
Pancho Villa
Author:
Ingredients
2 1/2 oz blanco tequila
1/2 oz Royal Rose Three Chile simple syrup
1/4 oz agave syrup
1/2 fresh lime juice
2 dashes of orange bitters
Instructions
Shake and serve in a chilled cocktail glass with a jalapeno garnish.
The following two tabs change content below.
Cocktail Editor | Greg is the classic cocktail aficionado and recipe developer at Simple Cocktails, his "place for the intimidated home bartender to shed some fear."
Latest posts by Greg Mays (see all)