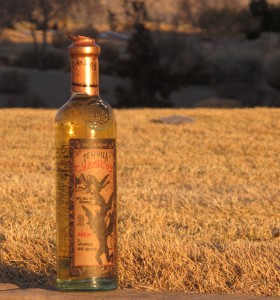 The Devil and I go way back. Growing up, we ran into each other off and on at elementary school, mostly at the principal's office. It wasn't until my junior year in high school when I got a car and a girlfriend that we became BFFs, though. Since then, we've had many adventures together. The latest came when Chamuco's Tequila CEO Mark Howard gave me a bottle of the company's reposado to review. From the snazzy box to the handmade artisan bottle and all the way to the taste, my old buddy's touch is definitely evident.
Chamuco's (Spanish for "devil") is what happens when a caricaturist, a movie director, and a young businessman create their own tequila. At first it was just a novelty to share with friends but in the last ten years or so it's grown into a full-blown brand. It's made from 100% blue agave, aged in white oak barrels, and produced in a town named San Francisco de Asis in Jalisco, Mexico.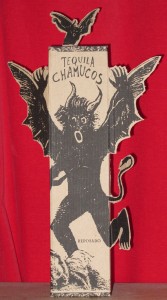 That's where it's poured into hand-blown vintage-style bottles but while all of the artistry that goes into containing the stuff is devilishly cool, we all know the real test is sipping it. Let me tell you, Chamuco's did not disappoint. Not only was it smooth and sweet, it also bore flavors of fruit, smoke, and a tiny touch of burning. Even the tequila haters among my barbecue crew were pleasantly surprised by the smoothness.
I also thought it'd be a good idea to hunt down some margarita recipes to get the best use out of the Devil's firewater. If you're interested in trying this smooth sexy beast for yourself, you can buy it here.
Blue Agave Margarita
Author:
Ingredients
1 1/2 ounce tequila
3/4 ounce lime juice
1/2 ounce blue agave nectar and water (mixed)
Instructions
Combine the ingredients in a cocktail shaker. Shake and strain into the cocktail glass of your choice.
Coconut/Mango Margarita
Author:
Ingredients
1 1/4 ounce tequila
1/4 ounce triple sec
1 1/2 ounce coconut milk
1/2 ounce mango puree or mango juice
1/2 ounce fresh lime juice
Instructions
Combine the ingredients in an ice-filled shaker.
Shake well
Strain it into a glass over ice.
Grand Margarita
Author:
Ingredients
1 ounce Grand Marnier liqueur
1½ ounce tequila
¾ ounce freshly squeezed lime juice
Instructions
Combine the ingredients in a cocktail shaker full of ice.
Shake well.
Strain it into a glass on the rocks
Strawberry Margarita
Author:
Ingredients
3 1/2 cups strawberries
2 1/2 cups crushed ice
1/2 cup tequila
1/2 cup fresh lime juice
1/4 cup sugar
3 tablespoons Cointreau
Instructions
Combine everything in a blender and blend until smooth.
Pour the finished margaritas into four large glasses, garnish with lime, and serve ASAP.
Flatliner Layered Shot
Author:
Ingredients
1/2 ounce tequila
1/2 ounce sambuca
hot sauce (to taste)
Instructions
Pour the sambuca into a shot glass.
Carefully add a layer of the hot sauce using a spoon.
Layer the tequila on top and serve.
The following two tabs change content below.
Managing Editor | Mark is a freelance journalist based out of Los Angeles. He's our Do-It-Yourself specialist, and happily agrees to try pretty much every twisted project we come up with.
Latest posts by Mark Masker (see all)