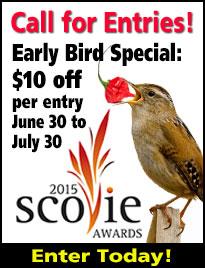 Today is the final day to take advantage of the Early Bird Special with a discount of $10 per entry. The Special ends tonight at midnight. So, if you're planning to enter more than one product into our 19th annual Scovie Awards Competition, now is the time to act.
Here's how Scovie wins have helped companies:
"The Scovies are one of the most important things we do to market our product line. If we win a category we get bragging rights for a year and it helps increase sales of the winning item. The Scovies is the only spicy foods award contest to enter." Sarah Chavez, former marketing director, El Pinto Salsa
You, too can be a Scovie winner, but you have to enter first! Today would be a great day to do that before the the Early Bird Special deadline closes in.
And if you'd like to learn how we judge the contest, now you can watch our high-budget, award-winning short film in glorious Technicolor, by clicking here.
To enter the 2015 Scovie Awards, go here.
If you need more information, or if you have any questions, email Emily DeWitt-Cisneros at emily25714_5@msn.com, or call her at (505) 873-8680.
Hottest regards,
Dave DeWitt, Scovies Founder
The following two tabs change content below.
Managing Editor | Mark is a freelance journalist based out of Los Angeles. He's our Do-It-Yourself specialist, and happily agrees to try pretty much every twisted project we come up with.
Latest posts by Mark Masker (see all)