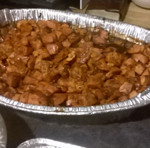 Candied yams being a regular cast member of holiday dinner, I like to play around with them each year. Not like some creepy herbophile, just so we're clear. I like to change them up when I cook 'em. We did Thanksgiving in a Southwestern theme so I had to find a way to make them fit. The solution: Kahlua, baker's chocolate, and ground red pepper to set off all of that sweetness. And, coincidentally, keep the little kids from eating them all before the grown up kids had a chance to grab a bite.
Candied Yams in Kahlua and Chocolate
Author:
Prep time:
Cook time:
Total time:
Ingredients
5 large, peeled, cubed sweet potatoes or yams
1 cup light brown sugar, packed
Juice and and fresh zest of 1 orange
1/4 cup Kahlua
¼ cup unsweetened baker's chocolate powder
1 teaspoon ground hot red pepper
½ teaspoon nutmeg
4 tablespoons butter
1/2 teaspoon vanilla
1 1/2 teaspoons cinnamon
Instructions
Arrange the cubed yams or potatoes in a crockpot or casserole dish.
Mix everything else in a bowl. Microwave just long enough to melt most of the butter.
Pour the mixture over the yams. Mix them with a wooden spoon to coat them all.
If cooking in a crockpot, set it on low and let it work its magic for 6-8 hours.
If using an oven, preheat it to 400F and cook the yams for 25 minutes or until fork-tender.
The following two tabs change content below.
Managing Editor | Mark is a freelance journalist based out of Los Angeles. He's our Do-It-Yourself specialist, and happily agrees to try pretty much every twisted project we come up with.
Latest posts by Mark Masker (see all)