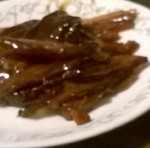 Over the last two years, Christmas-flavored bacon has been the Red Ryder BB gun to my Ralph Parker. Unlike the hero in A Christmas Story, though, there's no chance of me shooting my eye out or getting my tongue stuck to a frozen pole along the way. TBS also hasn't opted to run 24 Hours of Mark Chases Christmas Bacon.  This year, however, I think I finally got it right: Christmas Candied Bacon.
My first attempts all centered around adding holiday spices to my bacon cure. The results were about as flavorful as Siri singing Silent Night. Take regular bacon through the candying process, though, and it's much closer to what you'd want: sweet, salt, smoke, and cinnamon. Here's what I ended up doing.
Christmas Candied Bacon
Author:
Ingredients
1 lb sliced bacon
1/2 cup maple syrup
zest and juice from an orange
1/2 teaspoon ginger
1 teaspoon nutmeg
1 teaspoon cinnamon
Instructions
Preheat your oven to 400 F.
Mix all the non-bacon ingredients in a bowl.
Place the bacon on a cookie sheet lined with foil. Do not overlap the pieces at all. Optional: place it on a rack over the foil if you're concerned about it sticking. Brush the mixture over the bacon to coat it.
Cook the bacon in the oven for 12-15 minutes. Flip the bacon over, baste it with the remaining mixture.
Cook the bacon an additional 5-10 minutes.
The following two tabs change content below.
Managing Editor | Mark is a freelance journalist based out of Los Angeles. He's our Do-It-Yourself specialist, and happily agrees to try pretty much every twisted project we come up with.
Latest posts by Mark Masker (see all)