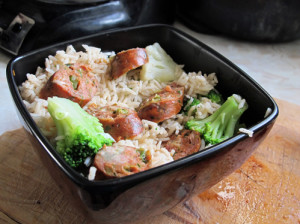 Pirate Johnny's was a huge hit at last year's show. Their Caribbean-style rubs went over like butane at a pyromaniac convention. If pyromaniacs had a convention. Which, if they did, would be pretty obvious from the inferno observable from outer space. But this story isn't about the type of fire that gets you life in prison. It's about the delicious kind that burns in your mouth the more you eat. Namely, Pirate Johnny's Hot Jerk Spice Rub and Scorched Pirate BBQ Rub. Both were my pleasure to test for Burn! Blog.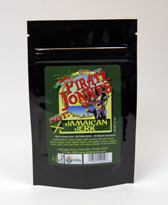 Jamaican Me Hungry
Pirate Johnny's HOT! Jamaican Jerk seasoning wasn't the searing packet of mouth death you sometimes get at events like our National Fiery Foods and Barbecue Show. I tried both it and the Scorched Pirate on pork chops over coals. Neither was two seconds of flavor followed by ten minutes of blasting heat. That said, the HOT! Jamaican Jerk was definitely the milder of the two. It's a sweet, flavorful seasoning that has a medium-sized spicy finish. Like all of their products, it's also gluten-free, MSG-free, and Low Sodium. I also found it to be a sweet representation of the classic Caribbean jerk flavor. Both it and the Scorched Pirate come in sizes ranging from a packet ($3.35) to a 5-ounce bottle ($4.95) and a big flask ($10.95). If you want to go bigger, try Pirate Johnny's Jamaican Jerk seasoning and sauce combo pack for $11.45.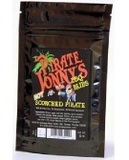 Fed Men Tell No Tales
They actually do but I was hard pressed to come up with a decent pirate pun for the Scorched Pirate BBQ Rub. It's what happens when the Jamaican Jerk takes steroids and starts taking MMA classes: you get bolder, stronger, and a lot more aggressive, especially in the heat department. A buddy of mine said it tasted like it had turmeric in it, too.
The first bite of pork chop was Caribbean flavor followed by a slow, medium-intensity burn. Two more bites in, though, and the heat really starts to build. It's one of those spice rubs that builds on itself bit-by-bit the further you get into the meal. That's my favorite kind of fire, personally. The only problem I had with the Scorched Pirate was that Pirate Johnny's doesn't offer it as a sauce as well as a rub. But as issues go with food, that's a pretty minor one.
Sausagefest
I'd run out of the jerk seasoning by the time the pork chop test was done but I had a little bit of the Scorched Pirate left. I also had some habanero chicken sausage links from Costco that needed eatin.' Turning them both into a mish-mash of chopped link, rice, and veggies seemed like a good idea. Unfortunately, I also didn't have enough Scorched Pirate to do the job, either. When I mixed it with the 1 cup of rice that went into my little mini-cooker, very little of the flavor made it to the finished meal. Most likely because I erred way too far on the side of caution. Here's the recipe as I would do it if I were making it now.
Habanero Sausage with Rice and Veggies
Author:
Ingredients
2 links habanero chicken sausage with pepper jack
1 1/2 cup broccoli and cauliflower
2 cup white rice
1-2 tablespoons Scorched Pirate seasoning
Instructions
Follow the directions on your rice cooker.
While the rice is cooking, pan fry the sausage over medium heat, lid on, with a little water in it. Flip after five minutes. Keep the lid on. Cook until the sausage firms up (about 6 more minutes).
Heat a small saucepan full of water to boiling. Boil the vegetables in the pan, with the lid on, for 5-6 minutes.
Drain the vegetables, slice the sausage.
Mix the seasoning into the fully cooked rice. Add the meat and vegetables and mix it again.
The following two tabs change content below.
Managing Editor | Mark is a freelance journalist based out of Los Angeles. He's our Do-It-Yourself specialist, and happily agrees to try pretty much every twisted project we come up with.
Latest posts by Mark Masker (see all)