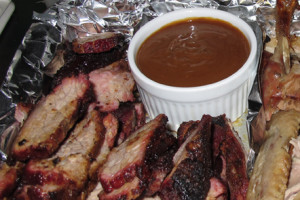 Our Environmental Protection Agency is looking at pollution from backyard barbecues. It's footing the bill for a University of California–Riverside study to limit emissions from grease drippings. The idea is to catch the drippings in a special tray and something called a catalytic filtration system.
The technology being studied with the $15,000 grant means to reduce air pollution and cut the health hazards caused by propane cookers.
With global warming kicking in full throttle, the EPA is looking more and more at homeowners and tools they use like lawn mowers, barbecue grills, and more.
The school proposes two solutions to reduce barbecue emissions. One: pumping the brakes on grease flare-ups: "A slotted and corrugated tray is inserted immediately prior to meat flipping, and removed immediately after. This short contact time prevents the tray from over-heating and volatilizing the collected grease. This collected grease will then drip off into a collection tray and can be used at the pit master's discretion."
Oh, yeah. That totally screams "practical application." When I'm flipping a mess of burgers and bacon dogs for a party, I'll always remember to reach for that. Well, it seems the study has my lazy butt covered, though. Two: installing a fan and filter. "The secondary air filtration system is composed of a single pipe duct system which contains a specialized metal filter, a metal fan blade, a drive shaft, and an accompanying power system with either a motorized or manual method. This system can be powered by either an exterior electric motor with a chain-driven drive shaft, directly spinning the fan blade, or a hand-powered crank," said the project write-up.
The grant is part of the EPA's "National Student Design Competition for Sustainability Focusing on People, Prosperity and the Planet (2014)." Personally, I'd look at emissions from chimney starters before vilifying yummy, tasty grease drippings.
The following two tabs change content below.
Managing Editor | Mark is a freelance journalist based out of Los Angeles. He's our Do-It-Yourself specialist, and happily agrees to try pretty much every twisted project we come up with.
Latest posts by Mark Masker (see all)