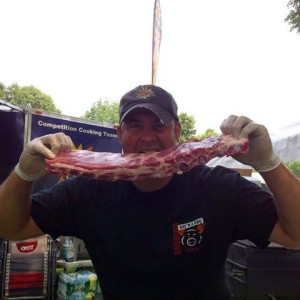 The BBQ Guru's Bob Trudnak and I have played phone tag for an interview for years. This is mostly my fault but we finally nailed down a Q&A session earlier this week. He's the main man for The BBQ Guru's competition team and I asked him about moving into barbecue, what he likes to make, and his plans for getting into the World Food Championships so he can add a second WFC rib win to his belt.
How did you go from studying photography to competing in barbecue?
Good question. I've always had a love for cooking. After high school, I went to Penn State for communications, going through the motions, deciding what I wanted to do. It was either photography or culinary school. I decided I can teach myself how to cook. I didn't necessarily want to be a restaurant chef. I took some marketing courses. In meantime, I'd grew up with my Italian grandmother, learning to cook the whole time.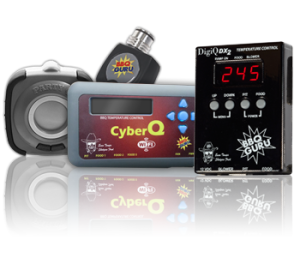 How did BBQ Guru come to be?
A few years after being in the photography industry, I marketed temperature control valves and took photos. I worked for Fred Pirkle (Shotgun Fred) who was from San Antonio, owned parent company  of what would become BBQ Guru. Our company got a call from a guy in Florida who bought valves for a mil ship he was working on. He asked us if we could make a temperature control valve for a barbecue. Fred took off with the idea. We developed our first mechanical temperature control and it was a success. So we started a line of barbecue products and we started testing products, cooking, competing. He taught me what southern barbecue was about. We were just kind of showing the product at first: we went to trade shows, set up booth, and walked around meeting people. There was nothing like that control on the market. We got a lot of negative feedback at first. So we'd just give people one and let them use it. Then the tables started to turn. People saw the value of letting the product control the temperature in the grill.
Why did BBQ Guru start a competition team?
We needed a barbecue team. I love of it; we're doing local events. We found our true passion. I never looked back at the valve side of the business. We've hired other people for that.
How long have you been competing?
I did one in 2003. This is the start of my twelfth year.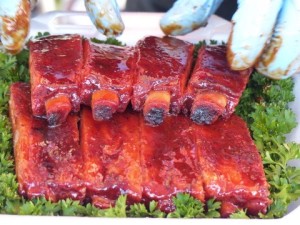 What do most new competitors do wrong?
Oversmoking their foods is one. I also think most new competitors decide that what they cook at home is okay to put in a box. Not paying enough attention to appearance is another. You want well balanced flavor. Overdoing one thing or the other is the most common mistake.
How often do you compete?
Two contests a month. From, say, the end of March through October.
What's the hardest part about competing?
Knowing you put some great food out to the judges and getting a score in the middle of the pack. It's hard work but I love it and enjoy it. Keeping yourself organized and repeating your success every time is most challenging.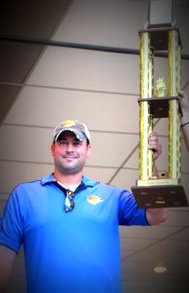 The easy question. What do you like most about it?
Just doing what I love. Cooking, being around the great group of people. I'm a very competitive person. Sharing stories and ideas. There's nothing better than creating a food, handing it to someone, and seeing that smile when they bite into it. That's what makes me go.
What, if anything, should the KCBS do differently?
I'm not a big fan of garnish. I wouldn't mind seeing it go someday. Overall they do a fantastic job. No matter what you do, there's always someone who wants to make things better or change them. We're involved with a lot of international stuff ourselves and so are they.
Such as?
I've now done competitions in England and Germany. I want to encourage more US teams to travel. I had a blast.
Will we see you compete at the WFC again?
I do qualifiers. I won the rib category in 2013. I definitely want to go back. I'll be in two qualifiers. I'd like to try a burger challenge.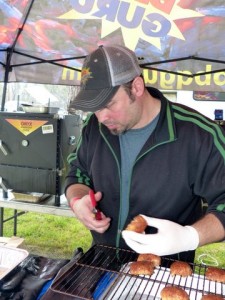 Tell us who's on your team and how did you put the crew together?
Putting the crew together was easy. It's just me. Here's what I do. I do cook alone in a lot of events. I'll bring different employees to cook with me. My 14 year old daughter does kids Q's. I sponsor some barbecue teams. If the local sponsor teams aren't cooking at a particular event, I'll ask them to come with me.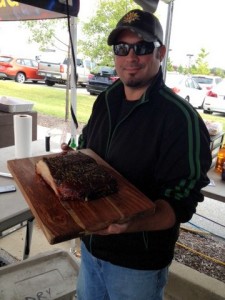 Do you have a specialty? What is it?
I'm a big fan of roasting pork belly over a charcoal smoker. I try different glazes. I have friends who own an artisan company. They do a bacon with my Alpha rub on it and I'm proud of that. I like roasting belly at 325 F. Cube it when it gets soft. Crispify it. People love 'em. The pans get empty quick. I make that bacon at events.
The following two tabs change content below.
Managing Editor | Mark is a freelance journalist based out of Los Angeles. He's our Do-It-Yourself specialist, and happily agrees to try pretty much every twisted project we come up with.
Latest posts by Mark Masker (see all)