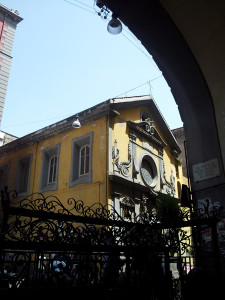 Last year, my teenage niece, Jo Taylor took a long school trip to Europe. Among the many sights she got to enjoy was Antica Pizzeria Port 'Alba in Naples–the oldest pizzeria in the world. In other words, she crossed something off of my bucket list. I figured the least she could do to make up for her uncle's envy was write a blog post about her impression of the place and its pizza… –Editor Masker
To say the least, I was excited to try the real-deal-holy-field pizza in Naples, but being the world's oldest pizzeria, I imagined Port 'Alba would have this proud, uppity feeling. However, I was impressed by the humility of the place. The restaurant is in an arched alley way and it looks, well, like the rest of Naples; a little run-down. A margherita pizza was only 3 euros so I went with that. It was a more than I could eat, but I'd guess that a larger person could finish it.
The crust was nothing like the thick pillow of bread American pizza is built on. It was soft, thin and a little bit chewy. The edges were slightly charred, which I found made the first bite of the slice really different from the last bite. The sauce was tangy and abundant and made the pizza seem barely solid in the center. So you can't really pick this pie up. The taste was really tomato-y, but nicely seasoned. I can't rave enough about mozzarella bufala. It's unmatched. In my mind, there is no other cheese for a simple pie. Melts so soft, it's rich, it's greasy. It's everything the sauce needs. The basil on top was crispy like a kale chip and as always, really, really flavorful.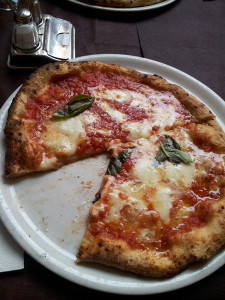 I tend to be snobby about food and the memory of this pizza did not help this condition. It's so hard for me to not turn my nose up when I see pizza in America. Port 'Alba just does the basics better than anybody.
Jo and I talked about Antica Pizzeria Port 'Alba after she got back. Although she's already pursuing a culinary career after high school (she's been an avid cook for years), she'd also love to go back to Naples and become a certified Neapolitan pizza chef.
If you beat me to that, I expect both a blog post AND a true Naples pizza on your return, Jo.
The following two tabs change content below.
Managing Editor | Mark is a freelance journalist based out of Los Angeles. He's our Do-It-Yourself specialist, and happily agrees to try pretty much every twisted project we come up with.
Latest posts by Mark Masker (see all)