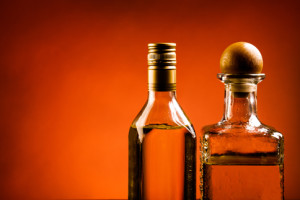 Outside of the origins of tequila, which we discussed in part 1 of this series, it's arguable that the kinds of tequila are even more critical, especially when you're out shopping. Here are the 5 primary types of tequila that we talked about at the Fiery Foods Show.
Non-100% agave tequilas, also known as Mixtos. A mixto tequila is arguably the most popular, as it's usually the least expensive tequila at retail. A mixto is a combination of at least 51% agave tequila plus grain alcohol and sugars. A sure-fire way to know if you're buying a mixto is that the label will not say it's "100% agave."
The four that follow are 100% agave tequilas.
Blanco/Silver. A blanco (white) tequila is aged 2 months or less, usually in steel or plastic containers. It's colorless and tends to be the most swampy or potent, especially when you buy 100% agave.
Reposado. These "rested" tequilas are aged 2 months – 1 year in oak barrels. The most common type of barrels that are used are old bourbon barrels, so these begin to take on some interesting, almost whiskey-like flavors.
Añejo . These "old" tequilas aren't old at all by Scotch standards, but in the tropical climate of Mexico, liquor ages much faster. Añejos are aged 1-3 years in similar containers as the Reposados.
Extra Añejo. Aged "longer than 3 years." These tequilas tend to get considerably pricier, and can be absolutely delicious. A few extra añejos of note are Don Julio 1942 (aged 3 years) and Don Julio Real (aged 5 years and $300+ a bottle).
Time for an excuse to use some Añejo tequila in a cocktail (which normally I wouldn't advise). The Old Fashioned is a classic cocktail for highlighting the subtle flavors of high quality liquor, though, so this is a great way to sip the quality stuff.
Tequila Old Fashioned
Author:
Ingredients
1 tsp of agave nectar
3 dashes of orange bitters
2 oz of añejo tequila
Instructions
Add the ingredients to an Old Fashioned glass. Fill the glass with ice and stir well.
Cut a piece of lime rind. Twist it and squeeze over the glass, then drop it in.
Top with a splash club soda
Greg Mays is the Managing Editor of www.simple-cocktails.com.
The following two tabs change content below.
Cocktail Editor | Greg is the classic cocktail aficionado and recipe developer at Simple Cocktails, his "place for the intimidated home bartender to shed some fear."
Latest posts by Greg Mays (see all)