I finally took the plunge and broke my chili competition cherry. Not only that, this was my first time making chili that didn't magically appear when I opened a can labeled "Hormel." Or, I should say, "chile" since I made a chile verde instead of the red stuff. Bartels Harley-Davidson held their annual chili cook-off in Marina del Rey yesterday and I thought I'd buck tradition with a little mean green.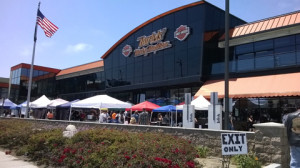 The cook-off is over a decade old now and for years I've kept meaning to compete there. Our schedules just didn't coincide. This year, I made it. Seeing as how I had no time to train up like I did for the San Diego Burger Battle last year, I didn't exactly go in thinking I was going to win.
And I was right.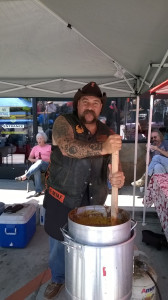 I did the best I could, though. Although I didn't win over the judges, I was blown away by the responses from the attendees. People liked that the verde was something different from the red chilis offered by the other 13 teams. Folks came back for seconds, thirds, and one guy even hit me up for samples four times! My close buddy Billy Bartels wandered the event and told me that people were recommending the chile verde to each other. I couldn't be happier with the experience, not just as my first chili competition, but also as my first attempt at making chile(i) verde from scratch! The heat profile was much milder than I anticipated but I'll correct that next time. Other than that, I'm very happy with it as a baseline for fine tuning. Here's the recipe I used so you can try it if you like.
Chile Verde
Author:
Although this isn't a "true" chile verde to some diehard afficionados, I really enjoyed making it.
Ingredients
3 lbs cubed pork shoulder
2 lbs skinned and halved tomatillos
5 minced garlic cloves
3 chopped garlic cloves
2 jalapenos, gutted, chopped
2 Anaheim chile peppers
1 bunch cilantro leaves
1 tbsp of dried oregano
2 cups chicken stock
Instructions
Preheat your oven for broiling.
Roast/broil the tomatillo halves on a baking sheet in your oven for 5-7 minutes so that the skin blackens somewhat. Roast/broil the Anaheim chile peppers and jalapenos likewise.
Blend the tomatillos, peppers, cilantro, and 2 of the minced garlic cloves.
Salt and pepper the cubed pork shoulder. Brown it in a skillet with a little olive oil. You may have to do this in batches.
Drain almost all of the grease from the pan (leave about 2 tablespoons worth).
Cook the onions and remaining garlic in the pan until the onions start to turn clear (about 5 minutes).
Mix the pork, onions/garlic, tomatillo mixture, and other remaining ingredients into a stock pot.
Heat to boiling, then simmer for 2-3 or or until the pork reaches the desired tenderness.
minut
The following two tabs change content below.
Managing Editor | Mark is a freelance journalist based out of Los Angeles. He's our Do-It-Yourself specialist, and happily agrees to try pretty much every twisted project we come up with.
Latest posts by Mark Masker (see all)