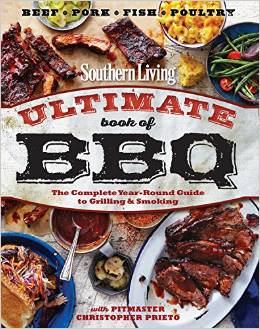 You may know champion 'que man Christopher Prieto from seeing him on Barbecue Pitmasters. Earlier this year, he was the guiding force behind the tome, Southern Living Ultimate Book of BBQ. It's not just a collection of recipes, though. Chris spent a lot of time pouring the lessons he's learned at the pit into the book, sharing information that in some cases runs counter to conventional wisdom, but in a good way. Here's what he had to tell me when I pinned him down for an interview.
BB: What prompted you to create this book?
CP: "Any barbequer wants their own book at some point. I've spent a lifetime writing down processes and journals. While everyone else my age was partying, I was behind my grill working out the variables. I had this passionate drive to create perfect barbecue. I've had that since I was five and had my first brisket. You spend all this time and money to turn in six pieces of barbecue for a judge to take one bite. I got into teaching and mentoring barbecue later. This book blends my two passions: mentoring and barbecue. All I've done is read and studied with my time off. Traveled and learned. Didn't know if this was going to be my last book but I wanted to translate all the knowledge and passion I'd gained through that learning into it. Most barbecue cookbooks are selling really cool pictures. They don't give you the where, why, and how that are involved. And that's how we get better. I'm constantly learning. You have to have a strong foundation and that's what I'm providing. I'm still learning all the time. The recipes are ones I've learned in competition."
BB: But how deep should you go into the process before a reader gets bored?
CP: "I didn't want to get scientific but wanted detail. It's a golden age for barbecue. You've got to get something real out there. We teach kids all ages."
BB: What's its greatest strength as a barbecue resource?
CP: "I think the technique. That's what people lack. You can take what I teach, put salt and pepper to it, and you'll get great results. The rubs and so forth just enhance what I teach. That step-by-step application is necessary. I had a book people bought a lot of but its technique was minimal. You've got to show the hands in action, trimming, and so forth."
BB: What do you like most about the book?
CP: "Just working with the most phenomenal people. They took my suggestions and applied them. I have every barbecue book you can imagine and haven't read a quarter of them. The good ones look worn and my hands are dirty while reading them; there are those tabs in mine when I'm flipping through. Most books you have to flip through like fifty times but this one lets you go right to what you want. I like the step-by-step process we included that's left out of a lot of books. Greg Dupree is great as a photographer. This book has a very dirty look. I'm always not getting sleep, my nails never come clean, I'm up to my knees in pork fat. But the end result is gorgeous. There's all these little things in barbecue and I wanted the book to reflect beautiful meat but not in a clean way. Most books over-style the photos. I would say 75% of what I'm wearing is that dirty. I cooked everything in little over a week, day after day, no sleep. There was time out when the photographer would come. I'd get done around 8:30, take a shower, and go back to bed for six hours sleep, and get back to it all over again."
BB: In hindsight, what would you do different with this book?
CP: "I thought there would be something. I was anticipating something I wouldn't enjoy about the book. I've waited a lifetime to see what I was capable of creating. When I got my copies that Friday, it was exactly what I imagined the book to be. I couldn't get really nerded out on people but I do that with my classes. I talk about wood but didn't talk about seasoning and aging wood throughout the year. I'd like to go deeper in the next book and take it to the scientific later. I'd like to cook on every type of cooker. I'd like my readers next time to know how to do all of that. I've made a smoker out of a flower pot to do a poor man's Big Green Egg."
BB: What are the most common barbecue mistakes and do you how avoid them?
CP: "Oversmoking, I'd say. People want to see pits billowing smoke; those choo-choo trains make way too many nitrates. Drafting a clean pit means a whisper of white or blue smoke. People come over all the time and ask, 'I thought you were barbecuing. Is your pit on?' Barbecue should be cooked to a tenderness, not a temperature. You lose bark but gain flavor when you wrap barbecue but you gain au jus too. Larger cuts absorb and reabsorb their juices when they rest. Protect it and tenderize it. That's the problem with people chasing a temperature. Cook it til it's done. I want it more tender. When I'm pushing it with my hand and juices run out, it's done. Another mistake is soaking wood. Wood has a natural moisture and wants to burn a certain way. When you soak it, what you're doing is introducing artificial moisture to do it. It burns yellow and acidic. Just buy fresh wood. Guys who cut down the trees are the best. They're tree nerds and get paid to cut it down. They're wood savants and can up your smoke game just like a local butcher can up your game on meat cuts. They both stare at the stuff all day long. Utilize the professionals around you."
BB: Do you have a specialty?
CP: "I get that a lot. I think a true pitmaster needs to specialize in it all. I don't want to be pigeonholed. I want people to eat my food and think everything is amazing. Don't want to be the rib guy, or chicken, or the rib whisperer. Brisket was where I started and I cook it til I get that feeling I had when I was five. My Puerto Rican dad took me there when we were young. A guy sliced this giant brisket in half, the juices ran out, it was awesome. My dad and I would barbecue and wanted to meet the pitmasters. They were my rock stars. On my time off, I'd collected the wood they'd use in their pits. Brisket is the one meat I want a little kid to experience from me at events. I love the emails saying, 'You gave my kid brisket and that's all he wants now.' That life changing flavor is what I seek after."
The following two tabs change content below.
Managing Editor | Mark is a freelance journalist based out of Los Angeles. He's our Do-It-Yourself specialist, and happily agrees to try pretty much every twisted project we come up with.
Latest posts by Mark Masker (see all)