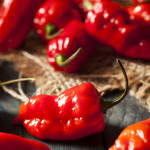 I'm not surprised Chip Hearn concocted ghost pepper ice cream at his Rehobeth Beach, Delaware joint, The Ice Cream Store. Given his love for spicy and his other love for ice cream, it was only a matter of time before he set those two crazy kids up, let nature take its course, and gave us the resulting lovechild that is his ghost pepper ice cream.
It's a threesome of Chip's signature African vanilla ice cream, strawberry sauce and a mash of ghost peppers and more than a few hot sauces. I don't have a Scoville rating for it, but I'm going to guess it's a tad balmier than a jalapeno.
The Ice Cream Store has carried ghost pepper ice cream for the last three years but this summer business is boomin.' Chip Hearn says he's averaging two hundred tastes a week. If you want a full scoop, though, you'll need to sign the waiver. Here's how the stuff is described at The Ice Cream Store's website:
Ghost Pepper Ice Cream- Scorpion Sting ice cream with Mad Dog 357, Heartbreaking Dawns 1841, and Da' Bomb Ghost Pepper sauces added. Our good friends from the Two Fat Guys restaurant in Hockessin have also added in some fresh Ghost pepper mash. You WILL NOT be able to taste or buy this ice cream without first signing a waiver!
The following two tabs change content below.
Managing Editor | Mark is a freelance journalist based out of Los Angeles. He's our Do-It-Yourself specialist, and happily agrees to try pretty much every twisted project we come up with.
Latest posts by Mark Masker (see all)