If you hurry, you can still by me the pitmaster/chilehead on your list some really great grilling and barbecue gifts. Over the next three days I'll be posting lists from big expensive gifts to stocking stuffers. Let's start with the expensive goodies and work our way down. For purposes of our list, all of the items below cost at least $450.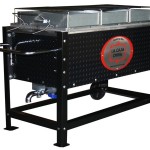 La Caja China's SP-Series Pig Roasters
The SP-Series includes the original La Caja China model with an updated sleek diamond-cut metal exterior. It also includes the 300DP models, which go above and beyond regular grilling. The 300 DP models are not only roasters, they're also smokers and grills. All of the SP metal roasting boxes can roast up to 100 pounds of meat at once. Some of our pig smoking boxes also come with drain valves, which make them easier to use. If cared for properly, the SP La Caja China can last 15 to 18 years. The metal ones start at over a grand but you can get the wood version for much less than that.
Yoder's YS1500 Pellet Cooker
The Yoder YS1500 Pellet Cooker has redefined versatile. The integrated heat management system (HMS) that was perfected in their wood pits is now available to pellet cooks.The HMS gives the pitmaster outstanding temperature control from side to side, making it easy to grill off a bunch of steaks, fill it full of butts and briskets or cook an entire competition on it. Mounted on a competition cart with 10″ pneumatic tires, you get exceptional style and unmatched mobility from your trailer to cooking position.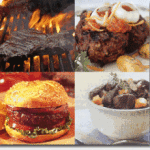 Buffalo Gal Half Bison Meat Pack
If you really want to blow a pitmaster's noggin, get them half a bison to grill throughout the year. As red meat goes, bison leaner than beef, making it a healthier option. Buffalo Gal sells and ships bison gift packs in all kinds of sizes. Here's what comes in their half a bison pack: 39 lbs of various steak cuts, 60 lbs of ground bison (in 1-lb packs), and 51 lbs of boneless roasts including brisket, sirloin, and more. UPS Ground shipping costs are included in price. Some locations may require UPS 3-day service at an additional cost. Locations include: CA, OR, WA, ID, AZ, NV.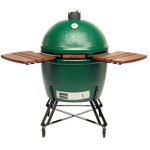 The XXLarge Big Green Egg
If ceramic cookers are more your speed, you'll be hard pressed to beat the famous Big Green Egg. Available in a variety of sizes, the large ones will cook all the ribs, burgers, and roasts you'll need for a big party. The XXLarge version is even big enough to smoke a suckling pig. Its total cooking area weighs in at 672 square inches.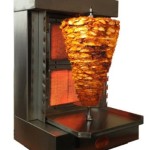 Spinning Grillers 5-in-1-Gyro Machine
Operating on propane, Spinning Grillers Gyro Machine is made for backyard cooking and light catering. It features smooth stainless steel construction with two Burners engineered to provide a crispy outside while keeping the meat juicy on the inside. The griller comes complete with the main vertical rotisserie skewer as well as three side kebab skewers and one large catch pan.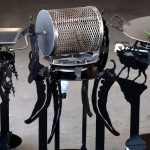 Disc-It Grill
If you've been to the National Fiery Foods and Barbecue Show, you've probably met Nevin Montano and his line of custom outdoor wok-like Disc-It grills. While it's probably too late to get one in time for Christmas, having a custom propane grill tailored to your favorite griller's personality is awesome enough to get you planning for next Christmas. Backyard chefs who already have Disc-Its can benefit from the gift of chile roasters, smokers, and other attachments the company makes for its flagship product.
The following two tabs change content below.
Managing Editor | Mark is a freelance journalist based out of Los Angeles. He's our Do-It-Yourself specialist, and happily agrees to try pretty much every twisted project we come up with.
Latest posts by Mark Masker (see all)