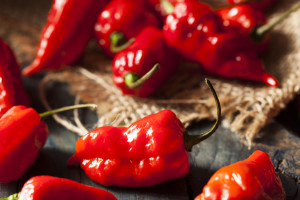 Apparently, the reason superhots make so much more fire than jalapenos or habaneros is because they're OCD. According to research at the Chile Pepper Institute at New Mexico State University, the main difference between the two groups of chiles is that superhots maximize their interior space. Much like how my roommate in college Tetris'ed everything in the apartment neatly into its own little storage compartment.
A pepper's heat-generating capsaicinoids are located in yellow-colored sacs called vesicles. In most chile peppers, the capsaicinoid vesicles are attached to the fruit's placenta, where the seeds are located.
Superhot peppers do it differently, according to the research. In them, the sacs are also found on the fruit wall, and in larger quantities. This gives the pepper far more surface area to pack in capsaicinoid vesicles and to turn up the heat. Peter Cooke, with the NMSU Core University Research Resources Laboratory, was able to make the capsaicinoid sacs fluoresce in both jalapeno peppers and Trinidad Moruga Scorpion peppers and then examined the fruit with university's electron microscope. For the full story, click here.
The following two tabs change content below.
Managing Editor | Mark is a freelance journalist based out of Los Angeles. He's our Do-It-Yourself specialist, and happily agrees to try pretty much every twisted project we come up with.
Latest posts by Mark Masker (see all)