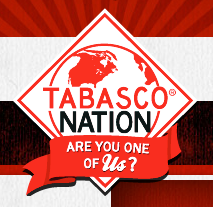 The tagline to McIlhenny's new Facebook-based interactive site reads, "Are You One of Us?" According to McIlhenny Company, TABASCO Nation® was created "for those looking for exceptional flavors, new and interesting food pairings, and a chance to express their passion for TABASCO®." It's also a place to win free stuff, which is always good.
Housed within Facebook, the application invites "citizens" to compete in various challenges, including polls and photo uploads, to earn points, virtual badges and Tabasco brand products. Based on points earned, users can achieve coveted status levels like Mayor, Governor, Senator and Ambassador.
TABASCO Nation launched publicly on November 1. Soon after its launch, in addition to daily polls and challenges, TABASCO Nation fans will be invited to participate in the official TABASCO Nation Anthem, a never-ending video reel of citizens passing a Tabasco bottle to one another.
"Tabasco fans have a certain zest for life that sets them apart from the crowd," said Paul McIlhenny, president and CEO of McIlhenny Company, maker of Tabasco sauce. "Through TABASCO Nation, we are able to provide this group with a forum to interact with one another, embrace their passion for Tabasco sauce and earn rewards for it."
To learn more, visit the TABASCO Nation tab at www.Facebook.com/TABASCO.
Read this article on www.fiery-foods.com about the oldest known Tabasco bottle.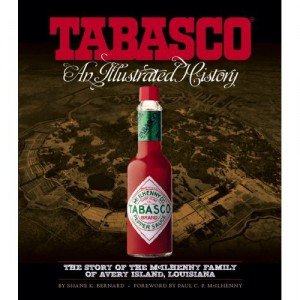 For the McIlhenny story authorized by the company, read Tabasco: An Illustrated History, available on amazon.com. Dave DeWitt writes, "This is the best-looking self-published book I've ever seen. Bernard, the historian for the McIlhenny Company, has done a great job of telling the story of the world's best-selling hot sauce and a profusion of illustrations that no one else has access to makes for a fascinating—if self-indulgent—book. I'm not going to get into the controversies about the sauce's true history because another book, McIlhenny's Gold goes down that road in great detail. This book would make a perfect present for the hot sauce aficionado in the family."