Here's what I love about a BLT: It's a simple summer sandwich that combines the incomparable flavor of tomatoes straight from the garden with addictive, crunchy bacon, crispy lettuce (not iceberg!), and (for me) a spicy mayonnaise.
Here's what I hate about a BLT: It tends to fall apart as you eat it. When you hold the sandwich, tomato slices have a tendency to slide off of it and into your lap. When you bite into the bacon, the entire slice often comes out of the sandwich because you could not bite through the bacon slice. In other words, the BLT is often a mess that falls apart as you eat it.
My wife, Mary Jane, has come up with a solution: The Pita Bread BLT. In a bowl, combine chopped romaine lettuce with chopped fresh, ripe tomatoes from the garden. Fry or microwave 4 slices of bacon, drain them, and chop or crumble them on the cutting board into pieces about a half-inch wide. Add them to the lettuce and tomatoes and mix well. Take two pita bread halves and slather the insides with a mayonnaise with your favorite hot sauce added. Fill the pita halves with the BLT mixture and serve. No falling apart, the classic BLT flavor still holds, and no mess, no fuss.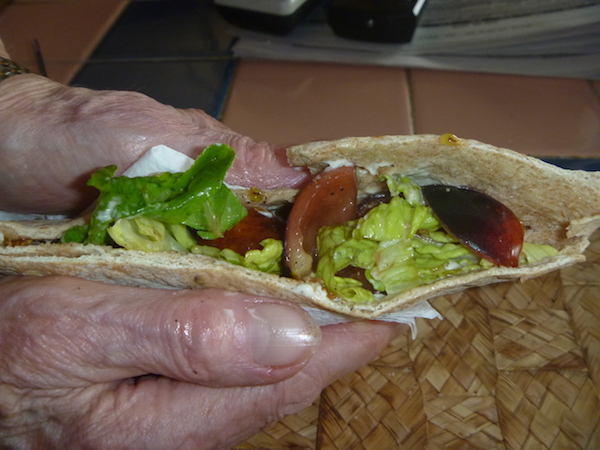 The following two tabs change content below.
Publisher | Christened the "Pope of Peppers" by The New York Times, Dave DeWitt is a food historian and one of the foremost authorities in the world on chile peppers, spices, and spicy foods.
Latest posts by Dave DeWitt (see all)