Review by Mike Stines, Ph.B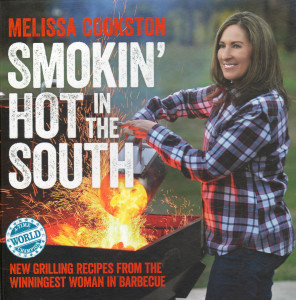 Melissa Cookston, the "winningest woman in barbecue," has written her second cookbook, Smoking Hot in the South. Published by Andrews McMeel, the 192-page book is crammed with cooking tips, recipes and photos. Cookston is a two-time Memphis in May Grand Champion and a four-time World Hog Champion. She owns and is the pitmaster at Memphis Barbecue Company restaurants, headquartered in Horn Lake, Mississippi.
Unlike most barbecue books on the market that do the usual fare, Cookston's book goes way beyond brisket, ribs and pork butt. Her collection includes Deep South Burgers with Pimento Cheese and Fried Green Tomatoes, Bacon Wrapped Scallops with Blood Orange-Jalapeno Glaze and Plank-Fired Crab Cakes along with scores of other delectable recipes. "I want to share the joy I get in grilling and smoking some of my favorite recipes," she says." At home I am a 'Let's change this up a little' type of cook and am always trying to find a way to inject new twists into old traditions," Cookston writes. At a retail price of $22.99, Cookston's latest book it well worth the investment. It is available wherever print books and eBooks are sold. More information is here.
Deep South Burgers with Pimiento and Cheese and Fried Green Tomatoes
2 pounds ground beef
2 tablespoons Worcestershire sauce
1 teaspoon granulated garlic
2 tablespoons Grillin' Shake
2 to 3 ounces pimiento cheese
Fried green tomatoes
Prepare a medium-hot grill for cooking.
In a bowl, combine the ground beef, Worcestershire, garlic and onion powder. Stir until incorporated and pat into 4 (8-ounce) patties. Season both sides with Grillin' Shake and place on a medium-hot grill. Cook to your desired temperature, about four to five minutes per side for medium to medium-well. As the burgers are nearly at temperature, place two to three ounces of pimiento cheese on each burger and let cook for one or two more minutes, or until the pimiento and cheese is beginning to melt.
Place the burger patty on the bun with your favorite burger fixings, then top with a fried green tomato and enjoy.
Yield: 4 burgers
Heat Scale: Mild
Grillin' Shake
6 tablespoons kosher salt
3 tablespoons coarsely ground black pepper
1 tablespoon onion flakes, lightly ground
1 tablespoon granulated garlic
1/2 teaspoon crushed red pepper
1 tablespoon coriander seeds, lightly ground
1 teaspoon dried thyme
Combine all the ingredients in a small mixing bowl and stir by hand until well incorporated. Store in an airtight container for up to two months.
The following two tabs change content below.
Publisher | Christened the "Pope of Peppers" by The New York Times, Dave DeWitt is a food historian and one of the foremost authorities in the world on chile peppers, spices, and spicy foods.
Latest posts by Dave DeWitt (see all)