By Mike Stines, Ph.B.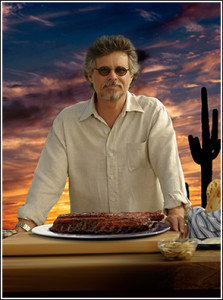 Stephen Raichlen has a bevy of cooking books under his belt… about 30. His first book "The Barbecue! Bible" was published in 1998 and he's been on a roll since then traveling to six continents and 60 countries researching the flavors and techniques of smoked cuisine.
He is the founder of BBQ University at the prestigious Greenbrier resort in West Virginia. The three-day course has since moved to the Broadmoor in Colorado Springs, another luxury resort, and is held twice a year. If you're feeling flush or just hit the lottery, the tuition, including rooms based on double occupancy, is $2,175 per person and the class has a limited (55 person) enrollment.
His latest cookbook Project Smoke is based on a PBS series of the same name. The 293-page book, published by Workman Publishing Group, has about 100 recipes along with cooking techniques and the theory behind them (most of the recipes have side notes outlining the method, smoking time, fuel used and also helpful information).
In his latest tome, Raichlen defines his seven steps to what he calls "smoking nirvana":
Choose Your Smoker
Source Your Fuel
Assemble Your Tools
Flavor Your Food
Select Your Smoking Method
Light Your Fire
Know When Your Food Is Done
Raichlen also introduces readers to different smokers, brines, rubs, marinades and barbecue sauces.
Here are a couple of recipes from Project Smoke that I found interesting and different:
Smoked Tomato and Corn Salsa
"Sometimes the difference between great and extraordinary turns on a whiff of wood smoke. Case in point: salsa," Raichlen writes. "You start with the usual ingredients – ripe tomatoes, sweet onions, jalapeños – plus another great summer vegetable: fresh corn. You smoke the ingredients before dicing and mixing – just long enough to impart a smoke flavor but briefly enough to retain a fresh raw vegetable crunch. The salsa tastes best made no more than three hours ahead of serving."
4 ripe red tomatoes (about two pounds), cut in half widthwise
4 jalapeño peppers, stemmed and cut in half lengthwise (seeded for a milder salsa; seeds left in for hotter)
2 ears sweet corn, shucked
1 small sweet onion, peeled and quartered
1/2 cup chopped fresh cilantro
1/4 cup fresh lime juice (2 to 3 limes), or to taste
Coarse salt
Tortilla chips (for serving)
Set up your smoker following the manufacturer's instructions and preheat to 225 degrees F. Add the wood as specified by the manufacturer.
Place the tomatoes and jalapeños (both cut side up), corn and onion in the smoker. Smoke the vegetables long enough to impart a smoke flavor (but not so long that you cook them), 15 to 20 minutes. Transfer the vegetables to a platter and let cool to room temperature.
Lay the corn on a cutting board and slice the kernels off the cob using broad strokes of a chef's knife. Transfer the corn kernels to a large bowl.
Coarsely chop the tomatoes, jalapeños and onion by hand or in a food processor. Add the corn and stir in the cilantro, lime juice and salt to taste. Transfer the salsa to a serving bowl. Serve with chips alongside.
Yield: Four cups to serve six to eight
Heat scale: Mild to medium
Barbecued Onions
"If sweet onions stuffed with bacon, jalapeños, barbecue sauce and cheese sounds like paradise, here's your hymnal," Raichlen writes about this recipe. "The preparation is infinitely customizable. You can substitute chorizo or other sausage for the bacon; diced pickles for the jalapeños and use any of the barbecue sauces in this book. Or beyond. Honey instead of barbecue sauce? A different cheese on the top?"
4 large (12- to 14-ounce each) sweet onions, peeled
3 tablespoons unsalted butter
4 strips artisanal bacon, cut crosswise into 1/4-inch silvers
4 jalapeño peppers, seeded and diced (for spicier onions, leave the seeds in)
1/2 cup barbecue sauce (use your favorite)
1/2 cup grated cheddar or pepper jack cheese (optional)
Using a sharp paring knife and starting at the top (opposite the root), cut an inverted cone-shaped cavity about two inches across the top and two inches deep in each onion. (The core should come out in a cone-shaped plug.) Chop the pieces you remove.
Melt one tablespoon of the butter in a medium-size skillet. Add the chopped onion, bacon and jalapeños and cook over medium heat, stirring occasionally, until lightly browned, four minutes. Place a spoonful of the filling into the cavity of each onion. Divide the remaining two tablespoons of butter into four pats and place one on top of each onion. (The onions can be prepared several hours ahead of time to this stage. Place them on a plate, cover with plastic wrap, and refrigerate.)
Set up your smoker following the manufacturer's instructions and preheat to 225 to 205 degrees F. Add the wood as specified by the manufacturer.
Place the onions on grill rings or in a shallow aluminum foil pan. Smoke until gently yielding when squeezed on the sides, about two hours.
Place two tablespoons of the barbecue sauce on each onion and top with two tablespoons of the cheese, if using. Continue smoking the onions for another 30 to 60 minutes. To test for doneness, squeeze the sides of the onion – they should be soft and easy to pierce with a metal skewer. Transfer the onions to a platter or plates for serving.
At $22.95 it's a good book and a worthy addition to your collection. More information about Raichlen's latest book is available at barbecuebible.com.
(Mike Stines is our Grilling & BBQ editor. Formerly senior editor for Fiery Foods & BBQ magazine, Mike holds a "Doctorate of Barbecue Philosophy" (Ph.B.) degree from the Kansas City Barbeque Society. His book – Mastering Barbecue (Ten Speed Press, 2005) – has been called the "go-to" book for BBQ knowledge. He's a former professional chef who lives on Cape Cod and travels internationally judging BBQ competitions.)
The following two tabs change content below.
Publisher | Christened the "Pope of Peppers" by The New York Times, Dave DeWitt is a food historian and one of the foremost authorities in the world on chile peppers, spices, and spicy foods.
Latest posts by Dave DeWitt (see all)