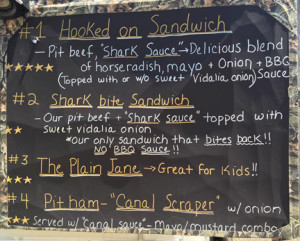 Mike Stines writes:
There are scores of variations for sliced beef sandwiches…
Buffalo, NY, and other areas in western New York have Beef on Weck… Slow roasted and thinly sliced beef served on a kummelweck roll, a Kaiser roll that is encrusted with kosher salt and caraway seed. It's usually served au jus with prepared horseradish.…
French dip, thinly sliced beef drenched in pan drippings, was created by accident in Los Angeles in the 1920s – originally it was sliced pork not beef. Today, it's typically thinly sliced beef on a French roll…
Italian beef originated in Chicago where it remains a popular sandwich. The beef is held au jus and served with grilled sweet peppers and Giardiniera…
A steak bomb – thinly sliced beef with sautéed bell peppers, onions, mushrooms and cheese – is indigenous to New England…
"Hot beef," again sliced beef au jus, is popular in South Dakota while roast beef po'boys – braised or boiled beef – are served up in New Orleans on French bread – crispy on the outside and soft in the middle – with delicious brown gravy…
And, of course, the Philly Cheese Steak created in the 1930s still reigns as one of the supreme steak sandwiches.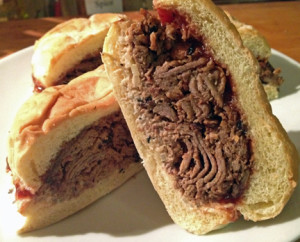 Mike Stines, Ph.B., takes a look at a lesser-known classic Baltimore sandwich… BBQ Pit Beef. It isn't really barbecue at all – it's thinly sliced grilled beef roast on a Kaiser roll with a tangy horseradish-based "Tiger Sauce," sliced onion and sometimes barbecue sauce.
Take a look at this iconic sandwich and the two sauces I use to make it and get the recipes here.
The following two tabs change content below.
Publisher | Christened the "Pope of Peppers" by The New York Times, Dave DeWitt is a food historian and one of the foremost authorities in the world on chile peppers, spices, and spicy foods.
Latest posts by Dave DeWitt (see all)